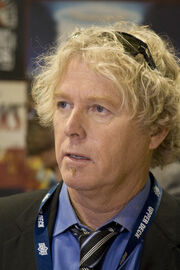 William Katt
Biographical Information
Born
February 16, 1951
Birthplace
Los Angeles, CA
Gender
Male
Years Active
1970-Present
Role
Walter
Season
Season 2
Episode
House vs. God
William Katt is an American actor, best known for his role as Ralph Hinkley, The Greatest American Hero, an ordinary man who finds an alien suit that gives him super powers. On House, M.D. he plays Walter, the father of teenage faith-healer Boyd in House vs. God. Katt has worked mostly in supporting and guest roles during the rest of his long career, which has now lasted over forty years. In recent years, he has also done a lot of voice work for animation.
Connections
Edit
Ad blocker interference detected!
Wikia is a free-to-use site that makes money from advertising. We have a modified experience for viewers using ad blockers

Wikia is not accessible if you've made further modifications. Remove the custom ad blocker rule(s) and the page will load as expected.