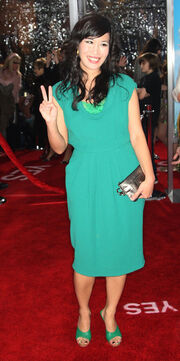 Vivian Bang
Biographical Information
Born
October 23, 1973
Birthplace
Seoul, South Korea
Gender
Female
Years Active
1997-Present
Role
Robin
Season
Season 1
Episode
Control
Vivian Bang is a Korean-born American actress. On House, M.D., she portrayed Robin, Carly Forlano's assistant, in the Season 1 episode Control.
Her role on House was an early career move. Since then, Bang has had featured roles in Yes Man, Kath & Kim, Better Off Ted, Jeffie Was Here, Mythomania, Matumbo Goldberg, Status Updates, Sullivan & Son and Someone Marry Barry.
Connections
Edit
Ad blocker interference detected!
Wikia is a free-to-use site that makes money from advertising. We have a modified experience for viewers using ad blockers

Wikia is not accessible if you've made further modifications. Remove the custom ad blocker rule(s) and the page will load as expected.