It seems like just yesterday, we had started watching House, M.D., and Gregory House's piercing intelligence and brutal rudeness shocked us all.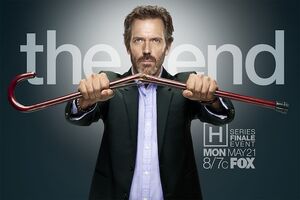 But time has passed, and it's time to say goodbye. Now that House, M.D. is ending, are we going to have to resort to WebMD to trigger our hypochondriasis? Say it ain't so!
Well, we have a few clues about the series finale that are sure to titillate you. First of all, the promo art seems pretty interesting--Gregory House breaking his cane in two pieces? Is there a chance he doesn't need it anymore, or is it just symbolic of the show's end?
Also, it seems like Cuddy isn't coming back for the finale--shame! But for sure, the talented writers will find ways to wrap up House, M.D. nicely.
So what do you think will happen in the series finale? Will Gregory House be able to walk normally again? Will someone die? Will it be lupus? Will a zombie nano-virus infect the entire hospital? (Just kidding, but it would make a good movie premise). Comment below and let us know what you think!

Source: TVline.com
---
---
Ad blocker interference detected!
Wikia is a free-to-use site that makes money from advertising. We have a modified experience for viewers using ad blockers

Wikia is not accessible if you've made further modifications. Remove the custom ad blocker rule(s) and the page will load as expected.