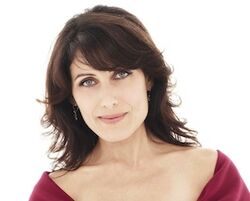 Oh no! We have some bad news, House fans! The series regular, Lisa Edelstein, who plays Dr. Cuddy, will not be returning for Season 8, rumored to be the last season of House. After such a strong and iconic run that culminated in the epic Huddy relationship, it's strange to imagine Plainsboro without Cuddy.
Lisa Edelstein released this statement: "After much consideration, I am moving onward with a combination of disappointment at leaving behind a character I have loved playing for seven years and excitement of the new opportunities in acting and producing that lie ahead."
Fox and NBC Universal declined to comment.
What do you think? Will House be the same without Cuddy? Tell us in the comments!
Source
Kate.moon 18:29, May 17, 2011 (UTC)