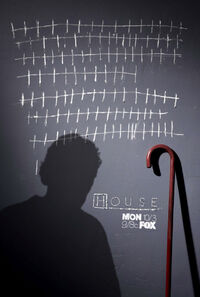 House has always been a delicious source of mystery and confusion...but wrap your head around this new poster for Season 8!
It features only the silhouette of Dr. House with his cane, of course, and a blackboard with chalk lines. Could this be some kind of prison tic-tac-toe?
Tell us your theories below! What do the chalk lines represent? Be sure to check out this awesome clip of House squaring off with the attractive prison doctor! He always knows better than everyone else...
Video
Source
Ad blocker interference detected!
Wikia is a free-to-use site that makes money from advertising. We have a modified experience for viewers using ad blockers

Wikia is not accessible if you've made further modifications. Remove the custom ad blocker rule(s) and the page will load as expected.