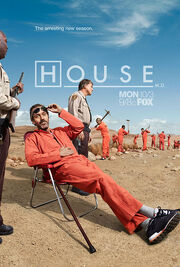 A new season 8 promo has been released today! Now we have two totally different posters.
In this poster, we can see to House with his orange jumpsuit for the first time. He is resting, or rather, he is sitting without doing nothing, the others prisoners are working and two guards are on their side. Maybe he's using his disability...
The promo gives an idea of what we can expect. But, what do you think about this?
Ad blocker interference detected!
Wikia is a free-to-use site that makes money from advertising. We have a modified experience for viewers using ad blockers

Wikia is not accessible if you've made further modifications. Remove the custom ad blocker rule(s) and the page will load as expected.