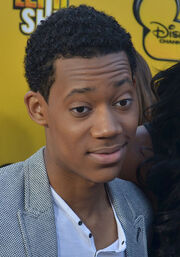 Tyler James Williams
Biographical Information
Born
October 9, 1992
Birthplace
Westchester, NY
Gender
Male
Years Active
2000-Present
Role
Landon Parks
Season
Season 7
Episode
Carrot or Stick
Tyler James Williams
is an American actor, best known for his portrayal of the title character on
Everybody Hates Chris.
On
House, M.D.
he portrayed
Landon Parks
.
Williams has been acting since the age of eight, and currently stars in the series Go On.
Connections
Edit
Ad blocker interference detected!
Wikia is a free-to-use site that makes money from advertising. We have a modified experience for viewers using ad blockers

Wikia is not accessible if you've made further modifications. Remove the custom ad blocker rule(s) and the page will load as expected.