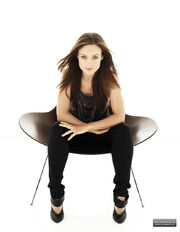 Hello. As you can guess by my username, I love Thirteen. will list some of the reasons I love Thirteen.
She looks very good!
The fact she has Huntington's diease interests me.
Whatever she does is epic!
Due to me being sick when I wrote this, I have forgotten half the reasons for my passion for Thirteen. She's a great charcther! (I know I can't spell characther withouot spellcheck DAMNIT!!!!!)
Expect updates after I recover!!!
ThirteenFanatic 23:16, February 15, 2011 (UTC)