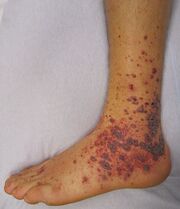 Purpura 
describes any red or purple discoloration on the skin that does not become paler when pressure is applied to it.  This indicates active 
bleeding
 beneath the 
skin
.  The most common cause is 
vasculitis
 but can also be caused by 
scurvy
, 
typhus
, lack of 
platelets
, and 
meningitis
.  It often appears together with 
DIC
.
In the House M.D. - Critical Cases episode "Station Agent", the patient suffers purpura from exposure to levamisole used with cocaine.
Ad blocker interference detected!
Wikia is a free-to-use site that makes money from advertising. We have a modified experience for viewers using ad blockers

Wikia is not accessible if you've made further modifications. Remove the custom ad blocker rule(s) and the page will load as expected.