Peter Jacobson is the actor who has portrayed Dr. Chris Taub, House's fellow since Season 4. He is the son of Chicago news anchor Walter Jacobson.
A graduate of Julliard, Jacobson has over fifty television and screen credits to his name, starting with an episode of NYPD Blue in 1993. Prior to joining the cast of House, his greatest successes have come in legal dramas - he appeared three times as Randy Dworkin, a talented defence counsel who was almost always a thorn in the side of ADA Jack McCoy on Law & Order, and as "Yarmulke" Jake Weisman on In Justice. Since his debut on House, he has had featured roles in What Just Happened? and Cars 2. Jacobson also starred in medical sitcom series Scrubs in the episode 'My Big Bird' as the patient Mr Foster.
Connections
Edit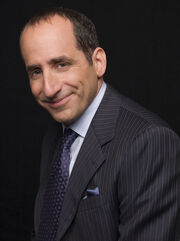 Ad blocker interference detected!
Wikia is a free-to-use site that makes money from advertising. We have a modified experience for viewers using ad blockers

Wikia is not accessible if you've made further modifications. Remove the custom ad blocker rule(s) and the page will load as expected.