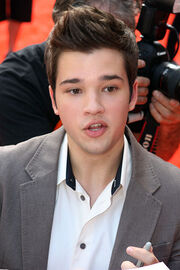 Nathan Kress
Biographical Information
Born
November 18, 1992
Birthplace
Glendale, CA
Gender
Male
Years Active
1998-Present
Role
Scott
Season
Season 2
Episode
Spin
Nathan Kress is an American actor, best known for his role as Freddy Benson on iCarly. On House, M.D., he portrayed Scott, one of the kids watching the bicycle race at the beginning of the Season 2 episode Spin.
Connections
Edit
This article is a stub, please help House Wikia by expanding it.