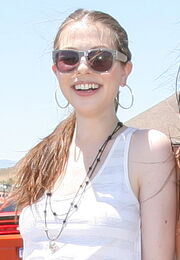 Michelle Trachtenberg
Biographical Information
Born
October 11, 1985
Birthplace
New York, NY
Gender
Female
Years Active
1991-Present
Role
Melinda Bardach
Season
Season 2
Episode
Safe
Michelle Trachtenberg
is an American actress.  On 
House, M.D.
 she portrayed
heart
transplant
patient
Melinda Bardach
in the episode
Safe
. She is probably best known as the character Dawn Summers in the television version of
Buffy The Vampire Slayer
. However, her first credit was on Law & Order at the age of six. She has amassed over thirty film and television credits since.
Trachtenberg played a teenage girl in the series, but she is actually only one year younger than Olivia Wilde.
Trachtenberg apparently developed a crush on Hugh Laurie. During the climactic scene when House looks under the modesty screen, rumor has it that Tractenberg had put a note "I Love You" at eye level.
Connections
Edit
Ad blocker interference detected!
Wikia is a free-to-use site that makes money from advertising. We have a modified experience for viewers using ad blockers

Wikia is not accessible if you've made further modifications. Remove the custom ad blocker rule(s) and the page will load as expected.