Michael Weston
Biographical Information
Born
October 25, 1973
Birthplace
New York, NY
Gender
Male
Years Active
1998-Present
Role
Lucas Douglas
Season
Season 5, Season 6
Episode
Not Cancer, others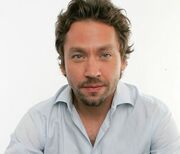 Michael Weston
, (born Michael Rubinstein on October 25, 1973 in New York City) is the actor who portrays private eye
Lucas Douglas
in
Season 5
and
Season 6
.
Weston got his first screen credit in 1998 in the series Night Man. Since then, he has been in over 25 other movies and television shows, including Supernatural, Coyote Ugly (with Piper Perabo), Hart's War, Frasier, Garden State, Monk, The Dukes of Hazzard, Scrubs, 'Six Feet Under, ER, Psych, and Law & Order SVU.He also plays Houdini, in 2016 show Houdini and Doyle..
Connections
Edit
Ad blocker interference detected!
Wikia is a free-to-use site that makes money from advertising. We have a modified experience for viewers using ad blockers

Wikia is not accessible if you've made further modifications. Remove the custom ad blocker rule(s) and the page will load as expected.