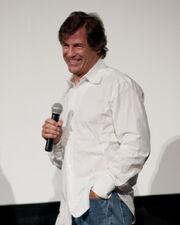 Michael Kevin Pare
is an American actor. On
House, M.D.
, he portrayed
Warden Delaire
, the head of
Gregory House's
parole board in the
Season 8
premiere
Twenty Vicodin
.
Pare originally wanted to be a chef until he met an agent in his native New York City who convinced him to try acting. His career since has spanned thirty years with featured roles on The Greatest American Hero, Eddie and the Cruisers, Streets of Fire, The Philadelphia Experiment, Houston Knights, Eddie and the Cruisers II Eddie Lives, Village of the Damned, The Virgin Suicides, Starhunter, Bloodrayne, South Beach, Polycarp, Bloodrayne II Deliverance, Ninja Cheerleaders and Rampage.
Watch for him in several productions in 2011-2012, including a TV version of The Philadelphia Experiment.
Connections
Edit
Ad blocker interference detected!
Wikia is a free-to-use site that makes money from advertising. We have a modified experience for viewers using ad blockers

Wikia is not accessible if you've made further modifications. Remove the custom ad blocker rule(s) and the page will load as expected.