Michael Nouri
Biographical Information
Born
December 9, 1945
Birthplace
Washington, DC
Gender
Male
Years Active
1969-Present
Role
Thad Barton
Season
Season 8
Episode
Risky Business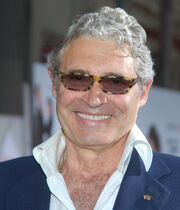 Michael Nouri
is an American actor. On
House, M.D.
, he portrayed rich business owner
Thad Barton
in the
Season 8
episode
Risky Business
.
In his 40 year career, Nouri has always become an in-demand actor with featured roles in The Curse of Dracula, Gangster Wars, Flashdance, Bay City Blues, Downtown, The Hidden, Victor/Victoria, Love & War, Too Rich: The Secret Life of Doris Duke, Finding Forrester, 61*, Lovely & Amazing, The Terminal, The Young & The Restless, The Boynton Beach Bereavement Club, Invincible, The O.C., Brothers & Sisters, The Proposal, Army Wives, NCIS, Damages, and, most recently, a 121 episode run on All My Children.
Connections
Edit
Ad blocker interference detected!
Wikia is a free-to-use site that makes money from advertising. We have a modified experience for viewers using ad blockers

Wikia is not accessible if you've made further modifications. Remove the custom ad blocker rule(s) and the page will load as expected.