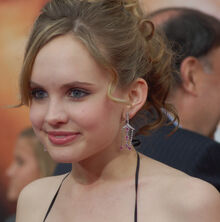 Meaghan Martin
Biographical Information
Born
February 17, 1992
Birthplace
Las Vegas, NV
Gender
Female
Years Active
2007-Present
Role
Sarah
Season
Season 5
Episode
Joy to the World
Meaghan Jette Martin is an American actress. On House, M.D., she portrayed Sarah in the Season 5 episode Joy to the World.
Martin has had featured roles in 10 Things I Hate About You, Wendy and Awkward.
Connections
Edit
Ad blocker interference detected!
Wikia is a free-to-use site that makes money from advertising. We have a modified experience for viewers using ad blockers

Wikia is not accessible if you've made further modifications. Remove the custom ad blocker rule(s) and the page will load as expected.