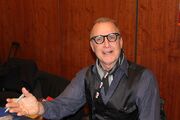 Marshall Bell
Biographical Information
Born
September 28, 1942
Birthplace
Tulsa, OK
Gender
Male
Years Active
1984-Present
Role
Warden
Season
Season 2
Episode
Acceptance
Archibald Marshall Bell is an American actor. On House, M.D., he portrayed the Warden in the Season 2 episode Acceptance.
Bell has had featured roles in Birdy, A Nightmare on Elm Street 2, Stand By Me, The Oldest Rookie, Johnny Be Good, Wiseguy, Twins, Hull High, Total Recall, Airheads, Just Looking, Virus, A Slipping-Down Life, Good vs Evil, MDs, Deadwood, Rebound, Capote, Room 6, Rescue Dawn, Sex and Death 101, Nancy Drew, Hamlet 2, The Xtacles, Heidi 4 Paws, Southland, Legends and 90 Minutes in Heaven.
Connections
Edit
Ad blocker interference detected!
Wikia is a free-to-use site that makes money from advertising. We have a modified experience for viewers using ad blockers

Wikia is not accessible if you've made further modifications. Remove the custom ad blocker rule(s) and the page will load as expected.