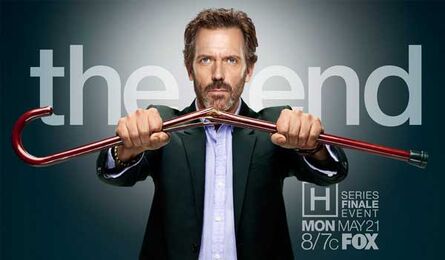 About House, M.D.
House, also known as House, M.D., was a critically-acclaimed American medical drama television series created by David Shore and executively produced by film director Bryan Singer. The Emmy and Peabody award-winning medical drama debuted on the FOX Network on November 16, 2004, and aired its last episode on May 21, 2012.
For eight years the show brought in people from around the globe, bringing intrigue and mystery in the form of unusual medical cases in a vein reminiscent of the mysteries solved by Sherlock Holmes. Furthermore, these cases were the catalyst for the discussion of philosophical and ethical issues and decisions, a lot of which were not left with a clear victor, but all of which revealed more and more of the character of each of the different doctors that comprised the team each year. In the end, while the team didn't completely understand (or appreciate) House's methods fully, the show gives a final hurrah as each of the members walks away with something they realize was the right thing to do after all. Although the mantra "Everybody Lies" is proven over and over again, the concept that "people never change, they only come up with better lies" is tested up until the last moments as the characters (and the show) drive off into an adventure left to the imagination.
Everything is challenged, nothing is sacred, and the most profound revelations of life can be found within the 172 hours of television given over the course of the eight seasons of pill-popping, dripping sarcasm, dark humor, and intelligent storytelling ever to grace the small screen of the living room (or large screen, if that may be the case, but then...everybody lies). This wiki is intended for your perusal to catch up, read, make new or more complete connections on various subject matter, or perhaps relive the funny if outrageous times given to us by actor Hugh Laurie and company.
Enjoy!
Current Featured Article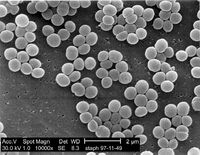 Staphylococcus
The Staphylococcus genus includes at least 40 species. Of these, nine have two subspecies, one has three subspecies, and one has four subspecies. Most of the species are harmless and reside normally on the skin and mucous membranes of humans and other organisms. Found worldwide, they are a small component of soil microbial flora.
Most of the species are remarkably hardy and can survive dry environments, hot environments and salty conditions that would kill most baceteria and even some viruses. As such, when a patient develops a staph infection, it is usually from bacteria that they have been carrying around for a considerable period of time on their skin, clothing or inside their nose. Several species are a common cause of infections of the skin, blood and stomach of humans. The immune system, in most cases, can easily deal with staph infections. It is easily killed outside the body by antiseptics or even soap and water. However, it can be remarkably opportunistic even in an otherwise healthy individual. It can infect even the smallest puncture or scratch in the skin and, when established, can multiply rapidly. It is a common hospital acquired infection particuarly among the immunocompromised, individuals who have had surgery or people with an intravenous line. Hospital acquired infections are more common than those acquired outside hospitals. Good hygiene practices can effectively reduce the chance of hospital infection. Transmission of staph infections from person to person is a healthy population is rare and it cannot be considered contagious. However, it can spread from an infected person to other patients in a hospital environment through health care workers, visitors or contaminated surfaces (including clothing such as ties and lab coats).
A staph infection usually starts with an abcess, usually just below the surface of the skin. Although these abcesses are often self-limiting, the infection can spread from the abcess into the bloodstream, where it can spread throughout the body. Typical symptoms include high fever and clotting. At this point, the growth of the bacteria can often continue unabated and can result in the death of the patient unless they are treated promptly. Luckily, the majority of infections can be treated with common antibiotics although in many cases, abcesses will have to be drained. However, resistant strains are becoming more common and can only be treated with a single very expensive antibiotic - vancomycin. such infections were once restricted to hospital acquired infections, but due to overuse of such powerful antibiotics, they are now becoming increasingly common in non-hospital acquired cases. One common complication is that in addition to the bacteria themselves, many species also secrete a toxin that can be fatal in and of itself. This toxin is also what causes food poisoning in staph infected foods.
Staph can manifest in many different ways in humans and, as such, several diseases where the underlying cause is a staph infection are often used for diagnostic purposes. However, in the vast majority of cases, it can be diagnosed solely by visual examination of the affected area without blood cultures.
Taxonomy
Most staph species are named after the source from where they were isolated, although some are named to honor people or places as well. A few are named after their physical characteristics. The taxonomy (species classification) is based on 16s rRNA sequences,and most of the staphylococcal species fall into 11 clusters: ....
Read more...
Current Featured Quote
House: "Is this hell? An eternity of people trying to convince me to live?"
Cameron: "Who says I'm here to convince you to live?"
―Cameron's hallucination appears in Everybody Dies
More quotes...
Featured Media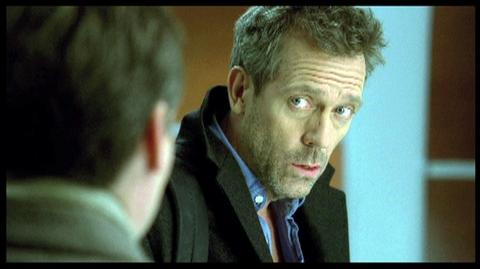 ---
<youtube width="415" height="260">>4cqsfGFP32I</youtube>
---
<youtube width="415" height="260">>9pwCK1LtvXo</youtube>
---
<youtube width="415" height="260">>9RUu-cRyPVQ</youtube>
Featured Poll
Most clueless clinic patient ever?
See past polls...
Trivia
Played the love interest of The Hebrew Hammer Answer...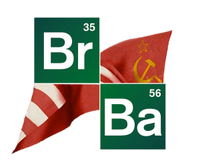 Episode lists
DVDs
We are devastated to announce the death of Skye McCole Bartusiak (Kids), apparently from the complications of epilepsy at the age of 21.
Another big milestone! Our 5,000th article! True, it's a stub, buy you can all help with that!
The lovely Amanda Leighton is our 1,000th picture file!
Be sure to visit the House Wiki in Spanish!
Now available on Facebook - House M.D. - Critical Cases!
Now available on Google Play - the House MD Wiki app!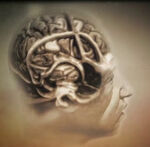 Please contribute your love and knowledge today!




Contribute
To write a new House Wiki article, enter the page title in the box below.
Useful Info
Need help?
Contact an Administrator|Help on Wikia Community
Newsreel
Loading RSS data...
Loading RSS data...
Loading RSS data...
Refresh
·
Read more...
Blogs
Create blog post
Blogs
Thank you Nerdfightergirl, both for your work in fixing vandalism last month and your quick choice of this month's featured article - Anesthetic. Modern medicine wouldn't exist without it. Please hel…

Read more >
See more >