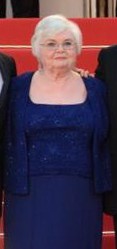 June Squibb
Biographical Information
Born
November 6, 1935
Birthplace
Vandalia, IL
Gender
Female
Years Active
1990-Present
Role
Ramona
Season
Season 1
Episode
Love Hurts
June Squibb 
is an American actress.  On 
House, M.D.
, she portrayed 
clinic patient
Ramona
 in the 
Season 1
 episode 
Love Hurts
.
Although Squibb didn't start acting until she was 55, she has since had featured roles in About Schmidt, Judging Amy, Welcome to Mooseport, Dead Write, The Bill Engvall Show, Ghost Whisperer, The Young and the Restless, The Big Year, The Man Who Shook the Hand of Vicente Fernandez and most recently Nebraska.
Connections
Edit
Ad blocker interference detected!
Wikia is a free-to-use site that makes money from advertising. We have a modified experience for viewers using ad blockers

Wikia is not accessible if you've made further modifications. Remove the custom ad blocker rule(s) and the page will load as expected.