Jolene Blalock
Biographical Information
Born
March 5, 1975
Birthplace
San Diego, CA
Gender
Female
Years Active
1998-Present
Role
Lexa
Season
Season 6
Episode
Teamwork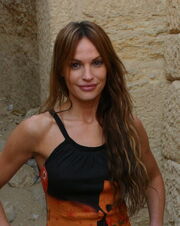 Jolene Blalock
is an American actress, best known for her role as T'Pol, the Vulcan First Officer in the Star Trek series
Enterprise.
On
House, M.D.
, she had a supporting role as
Lexa
, the porn star wife of
Hank Hardwick
in the
Season 6
episode
Teamwork
.
Originally a model, she honed her acting skills at the Stella Adler Academy and the Second City troupes in both Toronto and Los Angeles. Her first appearance on television was in an episode of Veronica's Closet, but she has also had featured roles in Jason and the Argonauts, Stargate SG-1, Slow Burn, Starship Troopers 3 and Legends of the Seeker.
Connections
Edit
Jolene Blalock at Memory Alpha
Ad blocker interference detected!
Wikia is a free-to-use site that makes money from advertising. We have a modified experience for viewers using ad blockers

Wikia is not accessible if you've made further modifications. Remove the custom ad blocker rule(s) and the page will load as expected.