Joe Morton
Biographical Information
Born
October 18, 1947
Birthplace
Bronx, NY
Gender
Male
Years Active
1970-Present
Role
Gary H. Wright
Season
Season 1
Episode
Role Model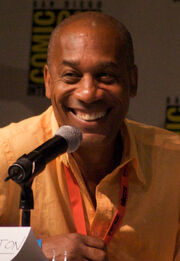 Joe Morton is an American character actor who played Senator Gary H. Wright, the patient in the Season 1 episode Role Model.
Morton started in television with a bit part on Mission:Impossible in 1970. However, he has been in a number of notable roles since:
His first regular role was on the short lived Sanford & Son spin-off Grady.
He played the title character in the well regarded independent film Brother from Another Planet.
He played Miles Dyson, the computer scientist who was unwittingly creating the computer which would take over the world in Terminator 2.
He portrayed Mike James in Equal Justice.
He portrayed Keanu Reeves' commanding officer Captain McMahon in Speed.
He had a recurring role as Dr. Steven Hamilton in Smallville.
Like Peter Jacobson, he had a recurring role as an attorney (the character was named Leon Chiles) on Law & Order.
He currently appears as Henry Deacon on the series Eureka.
Connections
Edit
Ad blocker interference detected!
Wikia is a free-to-use site that makes money from advertising. We have a modified experience for viewers using ad blockers

Wikia is not accessible if you've made further modifications. Remove the custom ad blocker rule(s) and the page will load as expected.