Jimmi Simpson
Biographical Information
Born
November 21, 1975
Birthplace
Hackettstown, NJ
Gender
Male
Years Active
2000-Present
Role
Daniel Bresson
Season
Season 5
Episode
Unfaithful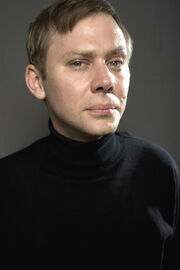 James Raymond "Jimmi" Simpson
is an American actor. On
House, M.D.
, he portrayed the priest who had lost his faith, Father
Daniel Bresson
, in the
Season 5
episode
Unfaithful
.
In his short career, Simpson has had many featured roles, starting with his first appearance in Loser. Since then, he has had featured roles in 24, Herbie Fully Loaded, Stay Alive, Itty Bitty Titty Committee, Zodiac, The Invention of Lying, Date Night, It's Always Sunny in Philadelphia and Psych. He currently stars in the series Breakout Kings. He is also well known to fans of Late Show with David Letterman as Lyle the intern.
Connections
Edit
Ad blocker interference detected!
Wikia is a free-to-use site that makes money from advertising. We have a modified experience for viewers using ad blockers

Wikia is not accessible if you've made further modifications. Remove the custom ad blocker rule(s) and the page will load as expected.