Jason Lewis is an American actor and model. On House, M.D., he portrayed Evan Greer, the actor who portrayed Dr. Brock Sterling in the "show within a show" Prescription Passion.
Lewis's career mirrors that of his character the "soap stud" with featured roles in High Sierra Search and Rescue, Beverly Hills 90210, Sex and the City, Charmed, The Evidence, Mr. Brooks and Brothers & Sisters.
Connections
Edit
Appeared with Greg Grunberg on Love Bites
Appeared with Cynthia Nixon in Sex and the City 2
Appeared with Judy Greer on How I Met Your Mother
Appeared with Cynthia Nixon and Candice Bergen in Sex and the City (movie)
Appeared with Olivia Wilde in The Death and Life of Bobby Z
Appeared with Orlando Jones on The Evidence
Appeared with Cynthia Nixon on Sex and the City (TV series)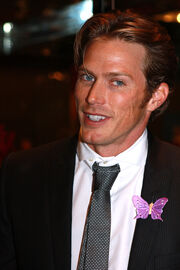 Ad blocker interference detected!
Wikia is a free-to-use site that makes money from advertising. We have a modified experience for viewers using ad blockers

Wikia is not accessible if you've made further modifications. Remove the custom ad blocker rule(s) and the page will load as expected.