Janel Moloney
Biographical Information
Born
October 3, 1969
Birthplace
Woodland Hills, CA
Gender
Female
Years Active
1991-Present
Role
Maggie
Season
Season 4
Episode
It's a Wonderful Lie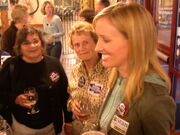 Janel Moloney
is an American actress, best known for her role as Donna Moss on
The West Wing.
On
House, M.D.
, she portrayed
Maggie
, the dying mother in the
Season 4
Christmas episode
It's a Wonderful Lie
.
Moloney's early work was largely in TV movies. However, she hit the big time on The West Wing in 1999 and since has had featured roles in Amber Frey:Witness for the Prosecution and Brotherhood.
Ad blocker interference detected!
Wikia is a free-to-use site that makes money from advertising. We have a modified experience for viewers using ad blockers

Wikia is not accessible if you've made further modifications. Remove the custom ad blocker rule(s) and the page will load as expected.