Jake Weber
Biographical Information
Born
March 19, 1964
Birthplace
London, England
Gender
Male
Years Active
1989-Music
Role
Joe Reese
Season
Season 8
Episode
Man of the House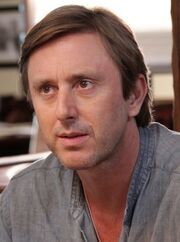 Jake Weber
is a British actor, best known for his role of Joe DuBois in the series
Medium.
On
House, M.D.
he portrayed marriage expert
Joe Reese
in the
Season 8
episode
Man of the House
.
Although he grew up in England, he moved to the United States for college, moving on to Julliard after he finished his BA degree. Starting out in small roles in good films, he eventually moved to featured roles in Something Wilder, American Gothic, Liberty! The American Revolution, Dangerous Beauty, Meet Joe Black, The Mind of the Married Man, Dawn of the Dead and The Haunting of Molly Hartley.
Connections
Edit
Ad blocker interference detected!
Wikia is a free-to-use site that makes money from advertising. We have a modified experience for viewers using ad blockers

Wikia is not accessible if you've made further modifications. Remove the custom ad blocker rule(s) and the page will load as expected.