Home
Talk

24
5,433pages on
this wiki
About House, M.D.
House, also known as House, M.D., was a critically-acclaimed American medical drama television series created by David Shore and executively produced by film director Bryan Singer. The Emmy and Peabody award-winning medical drama debuted on the FOX Network on November 16, 2004, and aired its last episode on May 21, 2012.
For eight years the show brought in people from around the globe, bringing intrigue and mystery in the form of unusual medical cases in a vein reminiscent of the mysteries solved by Sherlock Holmes. Furthermore, these cases were the catalyst for the discussion of philosophical and ethical issues and decisions, a lot of which were not left with a clear victor, but all of which revealed more and more of the character of each of the different doctors that comprised the team each year. In the end, while the team didn't completely understand (or appreciate) House's methods fully, the show gives a final hurrah as each of the members walks away with something they realize was the right thing to do after all. Although the mantra "Everybody Lies" is proven over and over again, the concept that "people never change, they only come up with better lies" is tested up until the last moments as the characters (and the show) drive off into an adventure left to the imagination.
Everything is challenged, nothing is sacred, and the most profound revelations of life can be found within the 172 hours of television given over the course of the eight seasons of pill-popping, dripping sarcasm, dark humor, and intelligent storytelling ever to grace the small screen of the living room (or large screen, if that may be the case, but then...everybody lies). This wiki is intended for your perusal to catch up, read, make new or more complete connections on various subject matter, or perhaps relive the funny if outrageous times given to us by actor Hugh Laurie and company.
Enjoy!
Current Featured Article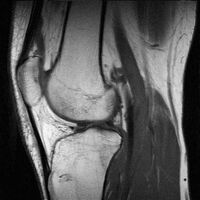 Magnetic resonance imaging
nuclear magnetic resonance imaging (NMRI), or magnetic resonance tomography (MRT) is a medical imaging technique used in radiology to investigate the anatomy and physiology of the body in both health and disease. MRI scanners use strong magnetic fields and radiowaves to form images of the body. The technique is widely used in hospitals for medical diagnosis, staging of disease and for follow-up without exposure to ionizing radiation.
Introduction
MRI has a wide range of applications in medical diagnosis and there are estimated to be over 25,000 scanners in use worldwide. MRI has an impact on diagnosis and treatment in many specialties although the effect on improved health outcomes is uncertain. Since MRI does not use any ionizing radiation its use is recommended in preference to CT when either modality could yield the same information. MRI is in general a safe technique but the number of incidents causing patient harm have risen. Contraindications to MRI include most cochlear implants and cardiac pacemakers, shrapnel and metallic foreign bodies in the orbits. The safety of MRI during the first trimester of pregnancy is uncertain, but it may be preferable to alternative options. The sustained increase in demand for MRI within the healthcare industry has led to concerns about cost effectiveness and overdiagnosis.
Neuroimaging
MRI is the investigative tool of choice for neurological cancers as it is more sensitive than CT for small tumors and offers better visualization of the posterior cranial fossa. The contrast provided between grey and white matter makes it the optimal choice for many conditions of the central nervous system including demyelinating diseases, dementia, cerebrovascular disease, infectious diseases and epilepsy. MRI is also used in MRI-guided stereotactic surgery and radiosurgery for treatment of intracranial tumors, arteriovenous malformations and other surgically treatable conditions.
Cardiovascular
Cardiac MRI is complementary to other imaging techniques, such as [[echocardiogram}echocardiography]], cardiac CT and nuclear medicine. Its applications include assessment of myocardial ischemia and viability, cardiomyopathies, myocarditis, iron overload, vascular diseases and congenital heart disease.
Musculoskeletal
Applications in the musculoskeletal system include spinal imaging, assessment of joint disease and soft tissue tumors.
....
Read more...
Current Featured Quote
House: "Is this hell? An eternity of people trying to convince me to live?"
Cameron: "Who says I'm here to convince you to live?"
―Cameron's hallucination appears in Everybody Dies
More quotes...
Featured Media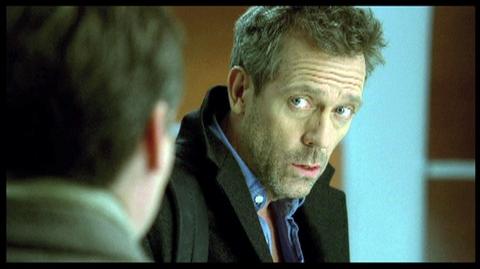 ---
---
---
Featured Poll
Most clueless clinic patient ever?
See past polls...
Trivia
Played the love interest of The Hebrew Hammer Answer...

Episode lists
DVDs
We are devastated to announce the death of Skye McCole Bartusiak (Kids), apparently from the complications of epilepsy at the age of 21.
Another big milestone! Our 5,000th article! True, it's a stub, buy you can all help with that!
The lovely Amanda Leighton is our 1,000th picture file!
Be sure to visit the House Wiki in Spanish!
Now available on Facebook - House M.D. - Critical Cases!
Now available on Google Play - the House MD Wiki app!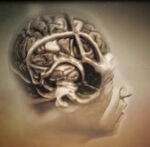 Please contribute your love and knowledge today!




Contribute
To write a new House Wiki article, enter the page title in the box below.
Useful Info
Need help?
Contact an Administrator|Help on Wikia Community
Newsreel
Loading RSS data...
Loading RSS data...
Loading RSS data...
Refresh
·
Read more...
Blogs
Create blog post
Blogs
The current list of 21 things to save the day missed the clear winner - talk to Dr. James Wilson about something totally unrelated.SteveHFisyh (talk) 02:52, January 24, 2015 (UTC)

Read more >
See more >