Home
Talk

24
5,607pages on
this wiki
About House, M.D.
House, also known as House, M.D., was a critically-acclaimed American medical drama television series created by David Shore and executively produced by film director Bryan Singer. The Emmy and Peabody award-winning medical drama debuted on the FOX Network on November 16, 2004, and aired its last episode on May 21, 2012.
For eight years the show brought in people from around the globe, bringing intrigue and mystery in the form of unusual medical cases in a vein reminiscent of the mysteries solved by Sherlock Holmes. Furthermore, these cases were the catalyst for the discussion of philosophical and ethical issues and decisions, a lot of which were not left with a clear victor, but all of which revealed more and more of the character of each of the different doctors that comprised the team each year. In the end, while the team didn't completely understand (or appreciate) House's methods fully, the show gives a final hurrah as each of the members walks away with something they realize was the right thing to do after all. Although the mantra "Everybody Lies" is proven over and over again, the concept that "people never change, they only come up with better lies" is tested up until the last moments as the characters (and the show) drive off into an adventure left to the imagination.
Everything is challenged, nothing is sacred, and the most profound revelations of life can be found within the 172 hours of television given over the course of the eight seasons of pill-popping, dripping sarcasm, dark humor, and intelligent storytelling ever to grace the small screen of the living room (or large screen, if that may be the case, but then...everybody lies). This wiki is intended for your perusal to catch up, read, make new or more complete connections on various subject matter, or perhaps relive the funny if outrageous times given to us by actor Hugh Laurie and company.
Enjoy!
Current Featured Article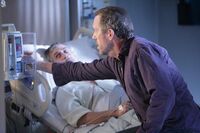 Lockdown
Lockdown is a 6th season episode of House which first aired on April 12, 2010. This episode sees Jennifer Morrison reprising her role as Dr. Allison Cameron for the last time except the series' final episode, Everybody Dies, and marks the series' directorial debut of Hugh Laurie.
In a change of pace, the "patient of the week" format is abandoned and the episode deals with one main plot and four separate sub-plots. When a newborn goes missing, the entire hospital is locked down, trapping all the doctors where they were at the time. Foreman and Taub are stuck in the file room, wonder if there is a pharmaceutical explanation behind House's personality, and take the opportunity to go through the hospital's confidential files on the staff's credentials. Wilson and Thirteen find themselves in the cafeteria playing truth or dare. House is stuck in a room with a dying patient (guest star Strathairn) whose case he refused to take and finds out the patient did have a rare condition that showed prosaic symptoms. Finally, Chase is stuck with a visiting Cameron, who's there to finalize their divorce. In the middle of all this Cuddy tries to help locate the missing infant.
One of the weaknesses of the series was often the failure to develop any of the minor characters. By Season 6, we know a great deal about House and his motivations, but the background and motivations of his team members are often a mystery despite House's constant probing. We get occasional insights into what drives them, but in most cases the team member are practically interchangeable as ambitious, smart, "Type A" personalities.
This episode breaks that trend as we get a great deal of background about Cameron, Taub and Foreman in particular, and even a little insight into what drives Wilson, Thirteen and Chase. Cameron, as it turns out, seeks out challenges except when it comes to long term relationships. Although Foreman saw that Cameron preferred people with an "expiry date", its clear that by this point even she accepts that she might be the first to run once the honeymoon is over. This may even explain her decision to quit after Foreman leaves and Chase is fired. As for Foreman, his insecurities are finally fully exposed. Despite his accomplishments, he feels like an impostor - a man in over his head who must do everything it takes to stay one step ahead of everyone else. Taub, on the other hand, feels like a failure. Once on a path to be the next House, he got distracted by wealth and the trappings of success. We see later in the series that what he always wanted was accomplishment, but this has eluded him despite being within his grasp earlier in his career. He envies Foreman for being on a man on the way up and House for being the incredible doctor he is with no concern for fame, fortune or even reputation.
When we get a glimpse at the confidential files, we see that all the characters are in some way ashamed of the truth. House deliberately makes his file look worse because, apparently, he believes results are more important than reputation. Taub is ashamed of his because it shows how great a doctor he could have been. Foreman is ashamed of his for a single stupid mistake that has absolutely no impact on the rest of his fantastic career.
Recap
A new baby girl is delivered and her parents decide what to name her as her older brother chimes in and complains he is hungry. The new father returns with the food and finds his family asleep. However, he left the baby in a nearby crib and it's no longer there. He wakes the mother who looks shocked.
Chase is shown jumping down the stairs whistling. He goes up to the front desk and asks, "You paged?" The nurse looks over rudely while Chase follows her stare. When he sees who it is he has a confused and surprised face on. Cameron is standing there waiting for him. She asks worridly,"Can we talk...somewhere private?"
Cuddy puts the hospital on alert as they discuss where the baby might be. She meets with the father, who said he wasn't out of the room for more than twenty minutes. She tells him that the baby bracelet has an alarm in it that would have gone off if it had left the hospital. She puts the hospital on lockdown and tells everyone not to move until they find the baby. ....
Read more...
Current Featured Quote
House: "Is this hell? An eternity of people trying to convince me to live?"
Cameron: "Who says I'm here to convince you to live?"
―Cameron's hallucination appears in Everybody Dies
More quotes...
Featured Media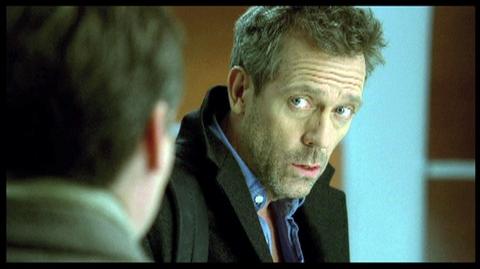 ---
---
---
Featured Poll
Most clueless clinic patient ever?
See past polls...
Trivia
Played the love interest of The Hebrew Hammer Answer...

Episode lists
DVDs
We are devastated to announce the death of Skye McCole Bartusiak (Kids), apparently from the complications of epilepsy at the age of 21.
Another big milestone! Our 5,000th article! True, it's a stub, buy you can all help with that!
The lovely Amanda Leighton is our 1,000th picture file!
Be sure to visit the House Wiki in Spanish!
Now available on Facebook - House M.D. - Critical Cases!
Now available on Google Play - the House MD Wiki app!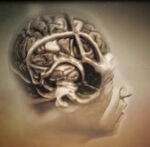 Please contribute your love and knowledge today!




Contribute
To write a new House Wiki article, enter the page title in the box below.
Useful Info
Need help?
Contact an Administrator|Help on Wikia Community
Newsreel
Loading RSS data...
Loading RSS data...
Loading RSS data...
Refresh
·
Read more...
Blogs
Create blog post
Blogs
Well, five people got the opportunity, but no-one got back to me by now, so I'm picking the featured article myself. Luckily, as I randomly picked pages, Charlyne Yi came up, and she's clearly worthy…

Read more >
See more >