Home
Talk

23
2,863pages on
this wiki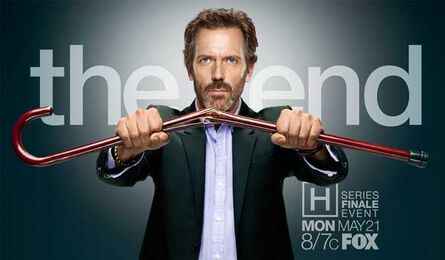 Seasons 1-3
Seasons 4-5
Departed (Season 5):
Season 6
Departed:
Season 7
Missing:
Temporary:
Season 8
Departed:
About House, M.D.
House, also known as House, M.D., was a critically-acclaimed American medical drama television series created by David Shore and executively produced by film director Bryan Singer. The Emmy and Peabody award-winning medical drama debuted on the FOX Network on November 16, 2004, and aired its last episode on May 21, 2012.
For eight years the show brought in people from around the globe, bringing intrigue and mystery in the form of unusual medical cases in a vein reminiscent of the mysteries solved by Sherlock Holmes. Furthermore, these cases were the catalyst for the discussion of philosophical and ethical issues and decisions, a lot of which were not left with a clear victor, but all of which revealed more and more of the character of each of the different doctors that comprised the team each year. In the end, while the team didn't completely understand (or appreciate) House's methods fully, the show gives a final hurrah as each of the members walks away with something they realize was the right thing to do after all. Although the mantra "Everybody Lies" is proven over and over again, the concept that "people never change, they only come up with better lies" is tested up until the last moments as the characters (and the show) drive off into an adventure left to the imagination.
Everything is challenged, nothing is sacred, and the most profound revelations of life can be found within the 172 hours of television given over the course of the eight seasons of pill-popping, dripping sarcasm, dark humor, and intelligent storytelling ever to grace the small screen of the living room (or large screen, if that may be the case, but then...everybody lies). This wiki is intended for your perusal to catch up, read, make new or more complete connections on various subject matter, or perhaps relive the funny if outrageous times given to us by actor Hugh Laurie and company.
Enjoy!
Current Featured Article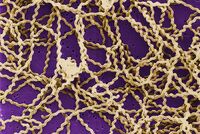 Leptospirosis
Leptospirosis (also known as Weil's syndrome, canicola fever, canefield fever, nanukayami fever, 7-day fever, Rat Catcher's Yellows, Fort Bragg fever, black jaundice, and Pretibial fever is caused by infection with bacteria of the genus Leptospira and affects humans as well as other animals.
Leptospirosis is among the world's most common diseases transmitted to people from animals. The infection is commonly transmitted to humans by allowing water that has been contaminated by animal urine to come in contact with unhealed breaks in the skin, the eyes, or the mucous membranes. Because urine has a natural disinfecting effect and leptospirosis is one of the very few bacteria that can survive in such an environment, it is one of very few urine transmitted diseases. It also only persists outside a host in a warm, wet environment. As such, outside of tropical areas, leptospirosis cases have a relatively distinct seasonality with most cases occurring in spring and autumn where conditions are most favorable.
Causes and transmission
Leptospirosis is caused by a spiral shaped bacterium called Leptospira spp. There are at least five strains (Icterohaemorrhagiae, Canicola, Pomona, Grippotyphosa, and Bratislava).of importance in the United States and Canada, all of which cause disease in dogs.
There are other less common infectious strains. Genetically different leptospira organisms may be identical serologically and vice versa. Hence, an argument exists on which basis strains should be identified - by their common genetics or their common serology. The traditional serologic system is seemingly more useful from a diagnostic and epidemiologic standpoint at the moment (which may change with further development and spread of technologies like polymerase chain reaction (PCR).
Leptospirosis is transmitted by the urine of an infected animal and is contagious as long as it is still moist. Although rats, mice, and moles are important primary hosts, a wide range of other mammals including dogs, deer, rabbits, hedgehogs, cows, sheep, raccoons, opossums, skunks, and certain marine mammals are able to carry and transmit the disease as secondary hosts. Dogs can contract the disease by licking the urine of an infected animal off the grass or soil or drinking from an infected puddle.
There have been reports of house bound dogs contracting leptospirosis apparently from licking the urine of infected mice that entered the house. The type of habitats most likely to carry infective bacteria are muddy riverbanks, ditches, gullies, and muddy livestock rearing areas where there is regular passage of either wild or farm mammals. There is a direct correlation between the amount of rainfall and the incidence of leptospirosis, making it seasonal in temperate climates and year-round in tropical climates. Leptospirosis is also transmitted by the semen of infected animals.
....
Read more...
Current Featured Quote
House: "Is this hell? An eternity of people trying to convince me to live?"
Cameron: "Who says I'm here to convince you to live?"
―Cameron's hallucination appears in Everybody Dies
More quotes...
Featured Media
---
---
---
Featured Poll
We're obviously going to take the end of the series no better than House did breaking up with Cuddy, so what is going to be your perfectly reasonable first reaction to the end of the series? (one choice only please, you can get around to the rest)
See past polls...
Trivia
His character on Star Trek: Deep Space Nine was named after a character played by Peter Weller. Answer...

<b />

Episode lists
DVDs
It's a wrap! Thank you to all the staff who worked so hard for eight years.
We celebrate our 2,000th article!
There is now a House Wiki in Spanish!
Now available on Facebook - House M.D.: Critical Cases!
Now available on Google Play - the House MD Wiki app!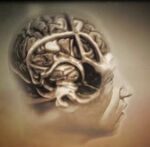 Please contribute your love and knowledge today!




Contribute
To write a new House Wiki article, enter the page title in the box below.
Useful Info
Need help?
Contact an Administrator|Help on Wikia Community
Newsreel
Loading RSS data...
Refresh
·
Read more...
Blogs
Create blog post
Blogs
Last month's winner didn't get back to me in time, so it's administrator's choice this month.

Regrettably, the list of most popular articles is off again, so I flipped through a dozen or so to find on…

Read more >
See more >