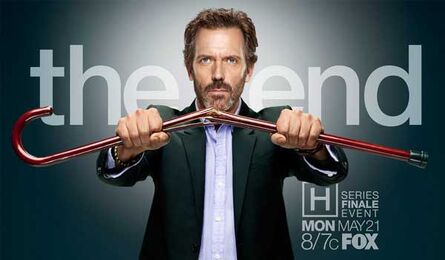 About House, M.D.
House, also known as House, M.D., was a critically-acclaimed American medical drama television series created by David Shore and executively produced by film director Bryan Singer. The Emmy and Peabody award-winning medical drama debuted on the FOX Network on November 16, 2004, and aired its last episode on May 21, 2012.
For eight years the show brought in people from around the globe, bringing intrigue and mystery in the form of unusual medical cases in a vein reminiscent of the mysteries solved by Sherlock Holmes. Furthermore, these cases were the catalyst for the discussion of philosophical and ethical issues and decisions, a lot of which were not left with a clear victor, but all of which revealed more and more of the character of each of the different doctors that comprised the team each year. In the end, while the team didn't completely understand (or appreciate) House's methods fully, the show gives a final hurrah as each of the members walks away with something they realize was the right thing to do after all. Although the mantra "Everybody Lies" is proven over and over again, the concept that "people never change, they only come up with better lies" is tested up until the last moments as the characters (and the show) drive off into an adventure left to the imagination.
Everything is challenged, nothing is sacred, and the most profound revelations of life can be found within the 172 hours of television given over the course of the eight seasons of pill-popping, dripping sarcasm, dark humor, and intelligent storytelling ever to grace the small screen of the living room (or large screen, if that may be the case, but then...everybody lies). This wiki is intended for your perusal to catch up, read, make new or more complete connections on various subject matter, or perhaps relive the funny if outrageous times given to us by actor Hugh Laurie and company.
Enjoy!
Current Featured Article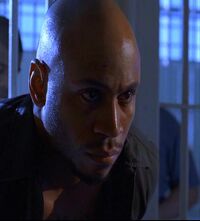 LL Cool J
James Todd Smith (born January 14, 1968), better known by his stage name LL Cool J (short for Ladies Love Cool James), is an American rapper, actor, author and entrepreneur from Queens, New York. He is known for such hip hop hits as "I Can't Live Without My Radio", "I'm Bad", "The Boomin' System", "Rock The Bells" and "Mama Said Knock You Out", as well as romantic ballads such as "Doin' It", "I Need Love", "Around the Way Girl" and "Hey Lover".
LL Cool J has released 13 studio albums and two greatest hits compilations. His twelfth album Exit 13 (2008), was his last for his long-tenured deal with Def Jam Recordings. His latest album, Authentic, was released in April 2013. In 2010, VH1 considered him to be on their "100 Greatest Artists Of All Time" list.
LL Cool J has also appeared in numerous films, including In Too Deep, Any Given Sunday, S.W.A.T., Mindhunters, and Edison. He currently stars in an action role as NCIS Special Agent Sam Hanna, on the CBS crime drama television series NCIS: Los Angeles. LL Cool J is also the host of Lip Sync Battle on Spike.
Early life
LL Cool J was born James Todd Smith on January 14, 1968, in Bay Shore, New York, the son of Ondrea Griffeth (born January 19, 1946) and James Louis Smith, Jr. In an episode of Finding Your Roots, LL learned his mother was adopted by Eugene Griffith and Ellen Hightower. The series' genetic genealogist CeCe Moore identified LL's biological grandparents as Ethel Mae Jolly and Nathaniel Christy Lewis through analysis of his DNA. LL's biological great-uncle was hall of fame boxer, John Henry Lewis.
He began rapping at the age of 9, influenced by hip-hop group The Treacherous Three. In March 1984 sixteen-year-old Smith was creating demo tapes in his grandparents' home. His grandfather, a jazz saxophonist, bought him $2,000 worth of equipment, including two turntables, an audio mixer and an amplifier. Smith stated that "By the time I got that equipment, I was already a rapper. In this neighborhood, the kids grow up in rap. It's like speaking Spanish if you grow up in an all-Spanish house. I got into it when I was about 9, and since then all I wanted was to make a record and hear it on the radio." This was at the same time that NYU student Rick Rubin and promoter-manager Russell Simmons founded the then-independent Def Jam label. By using the mixer he had received from his grandfather, Smith produced and mixed his own demos and sent them to various record companies throughout New York City, including Def Jam.

....
Read more...
Current Featured Quote
House: "Is this hell? An eternity of people trying to convince me to live?"
Cameron: "Who says I'm here to convince you to live?"
―Cameron's hallucination appears in Everybody Dies
More quotes...
Featured Media
Featured Poll
Most clueless clinic patient ever?
See past polls...
Trivia
Played the love interest of The Hebrew Hammer Answer...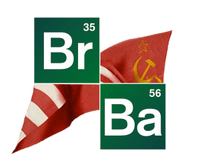 Episode lists
DVDs
We are devastated to announce the death of Skye McCole Bartusiak (Kids), apparently from the complications of epilepsy at the age of 21.
Another big milestone! Our 5,000th article! True, it's a stub, buy you can all help with that!
The lovely Amanda Leighton is our 1,000th picture file!
Be sure to visit the House Wiki in Spanish!
Now available on Facebook - House M.D. - Critical Cases!
Now available on Google Play - the House MD Wiki app!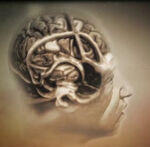 Please contribute your love and knowledge today!




Contribute
To write a new House Wiki article, enter the page title in the box below.
Useful Info
Need help?
Contact an Administrator|Help on Wikia Community
Newsreel
Loading RSS data...
Loading RSS data...
Loading RSS data...
small>Refresh</small>] · Read more...
Blogs
Create blog post
Blogs
Lazy, lazy, lazy. That's mostly me, although last month's winner didn't choose. However, after resting the whole weekend, I flipped through a few articles until coming to one tha should be featured: …

Read more >
See more >
Ad blocker interference detected!
Wikia is a free-to-use site that makes money from advertising. We have a modified experience for viewers using ad blockers

Wikia is not accessible if you've made further modifications. Remove the custom ad blocker rule(s) and the page will load as expected.