Ad blocker interference detected!
Wikia is a free-to-use site that makes money from advertising. We have a modified experience for viewers using ad blockers

Wikia is not accessible if you've made further modifications. Remove the custom ad blocker rule(s) and the page will load as expected.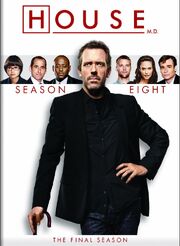 House, M.D.
Season Eight began airing on October 3, 2011 and ended May 21, 2012 which concluded the entire series. Universal has announced they will release the season on DVD and Blu-ray on August 21, 2012.
[1]
The set will include
Swan Song
as a bonus feature, as well as behind the scenes information and cast interviews.
[2]
Season 8: 2011-2012
Edit
Episode Number
Episode Name
Original Air Date
8 x 01
Twenty Vicodin
October 3, 2011
8 x 02
Transplant
October 10, 2011
8 x 03
Charity Case
October 17, 2011
8 x 04
Risky Business
October 31, 2011
8 x 05
The Confession
November 7, 2011
8 x 06
Parents
November, 14, 2011
8 x 07
Dead & Buried
November 21, 2011
8 x 08
Perils of Paranoia
November 28, 2011
8 x 09
Better Half
January 23, 2012
8 x 10
Runaways
January 30, 2012
8 x 11
Nobody's Fault
February 6, 2012
8 x 12
Chase
February 13, 2012
8 x 13
Man of the House
February 20, 2012
8 x 14
Love is Blind
March 19, 2012
(United States air date)
8 x 15
Blowing the Whistle
April 2, 2012
8 x 16
Gut Check
April 9, 2012
8 x 17
We Need the Eggs
April 16, 2012
8 x 18
Body and Soul
April 23, 2012
8 x 19
The C Word
April 30, 2012
8 x 20
Post Mortem
May 7, 2012
8 x 21
Holding On
May 14, 2012
8 x 22
Swan Song
Everybody Dies
May 21, 2012