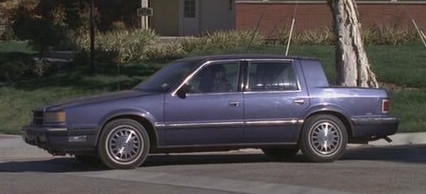 House's car is a 1988 or '89 Dodge Dynasty, an interesting choice for a man like House, who has been shown to have an affinity, if not an addiction, to extremely fast-moving vehicles. House's choice of such a hum-drum, downright pedestrian vehicle, not noted even at its introduction as a particularly scintillating example of automotive performance excellence, contrasts sharply with his obvious appreciation for fine motorcycles, monster trucks, and even other cars. In fact, House may have bought this car new, thus coinciding with the estimated time of his first meeting with Wilson. It may be that the car has some sentimental attachment due to this fact.
Despite House's rather cavalier attitude towards routine and boring tasks, it is evident that he has kept the car up, as the Dynasty was afflicted with Chrysler's notorious A604 Ultradrive "nightmare" transmission, a plague to Chrysler owners since 1989. It is possible, even probable, that he has had to have the transmission rebuilt several times over the last two decades, an unthinkable investment in a vehicle which would not be worth the price of one such rebuild on today's market.
The Dynasty gave its last full measure in demonstrating House's unhappiness over Cuddy's getting past their relationship, and now rests peacefully in Cuddy's dining room, secure in the knowledge that it has done its duty in soldierly fashion, may it rust in peace. (Moving On)
The Dynasty (or an identical lookalike) makes its triumphant return in Season Eight after Gregory House and Chi Park run a con on the wealthy Jessica Adams to get her to pay for the car's repair while thinking she's doing a favor for the notoriously hard-to-please Park.
The repairs are said to cost $4500, well over double the 2012 market value of the car and frankly a borderline-insane amount to spend on the Dodge. House could have easily gotten a newer and better vehicle for that kind of money, lending credence to the idea that the car holds some special meaning for him beyond its utility as a form of transportation.
Ad blocker interference detected!
Wikia is a free-to-use site that makes money from advertising. We have a modified experience for viewers using ad blockers

Wikia is not accessible if you've made further modifications. Remove the custom ad blocker rule(s) and the page will load as expected.