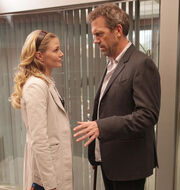 Hameron
is what some fans call the relationship between
House
and
Cameron
. Cameron asks House if he likes her in the episode
Control
and he says no. Later on, in
Role Model
, Cameron quits the team. In
Kids
, she agrees to come back as long as House goes on a date with her. They go on their date in
Love Hurts
. It ends badly when House says that she likes men that are damaged. In
Honeymoon
, Cameron tells House that she thought that he was incapable of loving anyone, but when she found out about
Stacy
, she realized that he just couldn't love her. In
Deception
, House gives Cameron a ride on
his motorcycle
; she originally puts her hands on his shoulders, but he pushes them on to his waist. In
Half-Wit
, Cameron kisses House while attempting to get a blood sample. The pairing is shot down by the show soon after Cameron becomes involved with Chase. In the season 5 finale they get married, but in season 6, they get divorced. Cameron admits that she was in love with House & Chase.
A point of confusion: when Chase asks Cameron if she ever loved him, Cameron says that she doesn't know. But then she realises that House has corrupted Chase vis-à-vis Dibala's murder. That was the last episode to feature Jennifer Morrison as a mainstay: Morrison left the show and Cameron was written out. The reason for this was unclear for quite some time. However, show creator and runner David Shore stated that the reason Cameron was written out was to show that not ever character to be around House was going to be corrupted.
Cameron came back one last time as a hallucination to House when he was in a burning building in the series finale. It is shown she has a child, presumably not House's child, but that of a man with whom she finally thinks she found happiness.
In eighth season finale we got to see the insight of House's mind where it was clearly seen that he saw all those people in hallucination whom he loved and those who left him for example Stacy, Dominika and of course Cameron. And in the end Cameron saved his life indirectly in the form of hallucination.
In the end, we can realise that she really loves House and vice virsa it is a beautiful love history and in the top their friendship it is beautiful and funny too
Videos of Interest, Created By Fans Edit
House and Cameron's Wedding Videos
Are You Happy Now? (Hameron story)