Gregory House
Talk

10
5,461pages on
this wiki
Gregory House
Personal Information
Age

55

Marital Status

Married to Dominika Patrova (separated)

Occupation

Doctor, Head of Diagnostic Medicine, Residency in Pathology, Nephrology, infectious disease specialist, intensivist

Date of Birth

June 11, 1959 (according to No Reason)

Acting Information
Actor
First Appearance
Last Appearance

  [Source]
"Hello, sick people and their loved ones! [Cuddy looks at him incredulously.] In the interest of saving time and avoiding a lot of boring chit-chat later, I'm Dr. Gregory House. You can call me Greg. I'm one of three doctors staffing this clinic this morning."
―- Dr. Gregory House, introducing himself to the clinic patients in Occam's Razor.
Gregory House, M.D., (almost universally referred to as House and rarely as Greg) is the main character and protagonist of the House series. He is portrayed by British actor Hugh Laurie.
TVOverMind.com picked House as their top TV Character of the decade [1]. Entertainment Weekly chose Gregory House as their 84th greatest character of the past 20 years [2]. In 2011, he was the most widely discussed fictional character on the social media site Facebook.
Biography
Edit
Early life
Edit
House was born in 1959. One possible birthday is June 11, 1959 (according to his hospital admission bracelet in No Reason) which is also actor Hugh Laurie's actual birth date. Another is May 15, 1959, according to his Driver License in Two Stories as well as the sheet of information he tapes to his bathroom wall in After Hours in case of his death. [3]. The child of an unknown man and Blythe House, a housewife who was married to a Marine pilot John House. At the same time that John was overseas, Blythe was also having an affair with Thomas Bell whom House believed was his biological father because they share certain physical characteristics and birthmarks.
As his father served on active duty through most of House's childhood and adolescence, House has lived in a variety of countries, such as Egypt, the Philippines and Japan. As a result, House is fluent in several languages including Mandarin Chinese, Spanish, Portuguese, and Hindi, and has a working knowledge of several others. He has used French and Latin phrases several times, but it is unknown how much he knows.
House was obviously a bright child, a mixed blessing as his harshly demanding father and enabling mother obviously had high hopes for him. He cultivated a variety of interests, such as chemistry and playing the piano and guitar. However, it appears that his isolation from people his age and his poor relationship with his parents led House to become something of a loner. He had no real friends growing up which more than likely added on to his anti-social behaviour. It is intimated that he frequently rebelled against his father and was punished as a result with both intense physical discomfort and emotional isolation.
At the age of 12, realizing that his father had been away during his conception, House deduced that John was not his biological father. House confronted John with this information, and as a result they stopped speaking to one another for an entire summer, communicating only through hand-written notes. Their relationship, however, returned to normal following this brief spat (although there is sufficient evidence presented throughout the series that points towards John's abuse of a young House). John treated House coldly, likely due to a lack of understanding between the two. It could be said that John did not resent House, but was a believer in tough love. Another theory is that considering that his punishments were more harsh, John more than likely, abused House as a way of exercising his frustration at Blythe's infidelity. This fact did not stop Blythe from supporting her husband, which made House all the more resentful towards his father. In One Day, One Room House confides in Eve that his father repeatedly abused him throughout his childhood, making him take ice water baths and sleep outside in the cold as a way of administering discipline. House strongly hints at this being the source of the fragility in he and his father's relationship. House is emotionally damaged by the dysfunction in these primary relationships, citing his mother's dishonesty and his father's hostility as causes of his damaged personality. His colleagues have acknowledged that this is the source of House's deep-seated unhappiness, and cynicism; his fear of intimacy, praise, and the unknown; as well as his lack of acceptance regarding traditional societal values and rituals.
It was during his visit to a Japanese hospital in his early teens that House met a disheveled-looking man appearing to be a janitor who was (despite his appearance) the greatest medical practitioner in the entire hospital. He later discovered the man was a buraku, an "untouchable" in the Japanese caste system who made no attempt to fit in with the rest of the hospital staff. When one of House's friends is gravely wounded in a rock climbing accident, the doctors turn to the buraku healer for his expertise. House cites this as the primary motivation behind his choice to become a doctor, noting that when all else failed, the doctors heeded the buraku's advice despite their intense distaste for him. The treatment of the buraku healer presumably mirrors the manner in which House was treated as a young man: being ignored by his "betters" despite his atypical, prodigious intellect, profound understanding of human nature, and wisdom beyond his years.
In his late teenage years, House went to a prep school in the United States where, in addition to keeping very good grades, he played varsity lacrosse and demonstrated a keen interest in music, both modern and classical.
Higher Education
Edit
House went to Johns Hopkins University in Baltimore, Maryland where he was in the pre-med program, maintaining an excellent GPA and eventually getting a perfect score on his MCAT. Before he went to med school, he thought about getting a Ph.D. in physics due to his desire to research dark matter. He obtained admission to Johns Hopkins Medical School and was one of their best students, eventually becoming the favorite to obtain a prestigious internship at the Mayo Clinic despite many run-ins with faculty members who he felt were treating him unfairly. However, he was caught cheating by his fellow student Philip Weber, the man whom he later treated as his arch-nemesis, and proceedings were set in motion to finalize his expulsion. Weber received the internship that House was supposed to receive.
Despite his academic misconduct, House was accepted into the University of Michigan's Medical System on a provisional basis while waiting out the appeal period at Johns Hopkins. During his time at UM House spent most of his time hanging around the university bookstore, where he eventually met a young undergraduate named Lisa Cuddy. Following a one night stand, however, House had learned he would not be re-admitted to Johns Hopkins and he would have to repeat his final year of medical school. As a result, he withdrew from his social life and ceased his pursuit of a formal relationship with Cuddy. House ultimately completed his internship and obtained residencies in pathology, nephrology and infectious disease, in addition to his completion of a double specialty.
In 1991, House attended a medical convention in New Orleans, Louisiana where he noticed a young medical school graduate carrying around unopened divorce papers all weekend. He followed the doctor, James Wilson, to a bar where a man kept playing Billy Joel's "Leave a Tender Moment Alone" on the jukebox which reminded Wilson of his recent breakup, prompting the two to get into an argument. In a fit of anger, Wilson threw a bottle and broke an antique mirror, getting himself arrested for assault, vandalism, and property destruction. House followed him to the police station and bailed him out. They spent the rest of the convention together (mostly drinking) and became close friends.
Romance and PPTH
Edit
About ten years before the series started, House participated in a paintball game pitting doctors against lawyers. One of the lawyers, Stacy Warner, shot House and put him out of the game. He asked her out and, despite her acceptance, the couple's first date was a disaster. A week later, however, she moved in with him and the two stayed together for the next five years.
House's medical career prior to his employment at Princeton-Plainsboro Teaching Hospital is shrouded in mystery, but it appears that although his skills as a diagnostician were unmatched, his disregard for the finer points of medical ethics/protocol, his inability to cooperate with subordinates and administrators alike, and what appears to be a disregard for routine work made him an almost unrivaled liability. It is known, however, that during this time he did indeed live in Princeton.
Six years before the series picked up, House found himself out of work, but he found out that Lisa Cuddy, now 29, had just been appointed as the Chief of Medicine at Princeton-Plainsboro Teaching Hospital. Seeking employment, House approached her for a job and was hired despite his poor professional reputation. Cuddy once remarked that she hired him because she knew of his extraordinary skill as a diagnostician, although at a much lower wage than would be acceptable for a doctor of House's expertise. House spent the next several years doing as little as possible to keep his job, although he was assigned a diagnostic team that he regularly abused and replaced. Nevertheless, he soon proved his worth as the "go to" doctor for complex and problematic cases.
Soon after House joined PPTH an opening in the hospital's budding oncology department appeared. Seizing the opportunity, House recommended his friend James Wilson for the job. Wilson was enthusiastic about moving to Princeton, but House didn't find out why for several years - Wilson's schizophrenic brother Danny Wilson had disappeared there years before.
Disability
Edit

Main Article Mid 30s man

Five years before the start of the series, House suffered an infarction in his leg while playing golf. Unfortunately, the only symptom was leg pain, and by the time House himself realized that he was suffering from muscle death, the leg was in such a bad state that amputation was the recommended course of action. However, House rejected the suggestion and instead suggested that he undergo a procedure to bypass circulation around the dead muscle. The result was intense pain during the healing process, which nearly resulted in cardiac arrest until House was put into a chemically induced coma. However, while House was comatose, Stacy, acting as his medical proxy, decided to go with Dr. Cuddy's suggestion to have the dead muscle surgically removed. Although this most likely saved House's life, it left him with permanent intense pain in his right leg. The wound on his leg still bears an obvious scar from where the muscle was removed and there is a divot in his skin where the muscle used to be.
House's anger over Stacy's decision not to trust him poisoned the relationship and led to Stacy leaving. House started to lean heavily on Wilson for emotional support, eventually leading in part to Wilson's divorce from his second wife, Bonnie Wilson. House's condition is most likely made worse by the fact that prior to the infarction, he was quite an active athlete, engaging in golf and running on a regular basis.

As a result of the pain, House became addicted to the narcotic pain killer, Vicodin. It should be noted, however, that even before his disability, House admitted to recreational drug use. Although House realizes he is addicted, he believes the Vicodin is the only thing that will allow him to overcome the pain and allow him to function. His dependence on the drug has gotten him into trouble on several occasions, and his colleagues are unsure whether House's anti-social personality traits are the result of his addiction, his pain, or actual personality.
House is very reluctant to talk about the incident which damaged his leg and can be easily offended when it is brought up. On one occasion where he told a group of students about the leg injury, (but disguised his identity), he becomes furious when they, like his original doctors, can't figure out what was wrong.
House is very sensitive of the appearance of his right thigh — it is badly scarred from the operations he has had. Both Cuddy and Dr. Cate Milton have noted his extreme reluctance to show it to anyone, particularly in intimate situations. However, during his period of psychosomatic pain after the departure of Stacy, he deliberately showed it to Cuddy to emphasize the nature of his disability and the cause of his pain in order to get a shot of morphine.
House has generally defended his decision to try to save his leg, but in the Season 6 finale Help Me, when faced with a patient who was making a similar decision and was reluctant to agree to an amputation, House finally admitted that his decision turned out to be a bad one. He admitted that if he had gone ahead with the amputation, he probably would not be in constant pain and would still be in a positive relationship.
The Series
Edit
Season One
Edit
At the beginning of the series, House has three fellows, longstanding "yes man" Robert Chase, more understanding and empathetic Allison Cameron and bright new hire Eric Foreman. Cuddy is angry with him for blowing off six years of clinic duty, and as a result, cuts off his hospital privileges until he starts making up the time.
House also "hides" from patients and refuses to meet them; claiming to his staff it helps not to get attached to the patient. However, when he does meet a patient who refuses treatment because of prior misdiagnosis, House is able to empathise with her and reveals the damage to his leg was also caused by misdiagnosis.
During this season, Cameron starts getting romantically interested in House, but House appears disinterested. Matters are complicated when PPTH gets a new chairman, Edward Vogler, a billionaire holding the hospital a virtual hostage with a donation of $100 million. He takes a dislike to the "hardly working" House and after a series of clashes that result in Cameron resigning, seeks to have him fired. Instead, Cuddy backs House and sends Vogler packing.
House asks Cameron back, but she won't unless House goes on a date with her. He agrees, only to tell her that he really isn't all that interested in her and he thinks she's only interested in him because he is so damaged. Cameron isn't convinced, but when Stacy returns into House's life seeking help for her husband, Mark Warner, Cameron realizes that House is capable of love and drops the matter.
Season Two
Edit
House agrees to let Stacy work at PPTH so she can work with Mark during his rehabilitation, and House soon is plotting to steal her away. They share a night together while Stacy considers leaving Mark, but at the last moment House realizes he will eventually make Stacy miserable again and tells her to stay with Mark, who can make her happy. She leaves, but the incident has an immediate negative reaction when House's leg pain continues to increase. Matters come to a head at the end of a season when the disgruntled husband of a former patient, Jack Moriarty shoots House in the abdomen and neck. His motive was that his affair was revealed in the course of the wife's treatment and she later committed suicide because of the revelation. However, when House is lying on a gurney waiting to be rushed to surgery, he regains consciousness long enough to ask for ketamine.
Season Three
Edit
After the ketamine treatment and eight weeks of recovery, House is pain free and ready to work harder. However, his leg pain and Vicodin habit soon return. After treating a clinic patient, Michael Tritter, with disrespect, House finds himself on the wrong side of the law as Tritter, a police detective, starts delving into House's Vicodin habit. However, to keep House from going to jail, Wilson refuses to testify and Cuddy perjures herself in court to have the charges against House dismissed.
Meanwhile, Foreman is worried that he is becoming too much like House and decides to resign. During his notice period, House suddenly decides to fire Chase and after Foreman leaves for good, Cameron decides to follow him, leaving House without a team.
Season Four
Edit
House tries to get along without a team, but after having a rough time with a case, Cuddy insists he hire new fellows. House resists, but eventually puts together a contest to pick new fellows out of forty applicants. He is surprised to find out that Cameron has returned to PPTH to work in the emergency room and that Chase is now on the surgical staff working towards being board certified. Soon, Foreman is back after getting fired from his new job and Cuddy insists that House work with him. House finally settles on Foreman, Chris Taub, Lawrence Kutner and Remy Hadley. It is at this time that former fellowship candidate, Amber Volakis, begins a relationship with Wilson. House believes this new relationship threatens his friendship with Wilson. At first untrusting of Amber's motives for involvement with Wilson, he tests and questions her and her responses appear to satisfy him as to her genuine interest in Wilson, if not with the eventual outcome of the relationship itself. Despite this 'stalemate' between them, House still antagonizes her and fights with her to spend more time with Wilson. Later in the season, House awakens from a bus crash with a serious head injury and a nagging feeling that someone is going to die. He believes that he must have witnessed a symptom of a fellow bus passenger of some kind that is leading him to have this feeling. He eventually remembers that Amber was on the bus with him and that the memory his brain was trying to retrieve was Amber taking flu pills, (amantadine), while on the bus with him. The amantadine binds with the proteins in blood, and when her organs are damaged in the bus crash, the amantadine is unable to be filtered out causing multi-system organ failure from amantadine poisoning. Amber later dies in Wilson's arms when he wakes her up from a coma to say goodbye to her before turning off the life support machines. House's fragmented memories reveal that Amber had gone to lend a ride to a drunken House at a bar on behalf of, but unbeknownst to, Wilson, who was at work at the time. House fatefully chose to ride the bus instead of accept her favor. Amber followed him onto the bus in order to give him his cane, which he had forgotton and left behind. The House-Wilson relationship looked as though it may break up anyway as the grieving Wilson questions the validity of House's friendship.
Season Five
Edit
Wilson decides to leave PPTH and House has no luck finding new friends. However, when John House dies, Wilson promises House's mother that he will make sure House attends the funeral. After a harrowing journey which ends with House taking a DNA sample to prove his theory that John was not his biological father, House and Wilson make amends and Wilson returns to PPTH. As the season progresses, more tragedy stikes when Kutner unexpectedly commits suicide. House's mental state quickly begins to deteriorate into hallucinations of Amber and delusions of a romantic relationship with Cuddy. House agrees to be voluntarily admitted to Mayfield Psychiatric Hospital.
Season Six
Edit
See also House (Broken)
With his medical license on the line, House is desperate to get Darryl Nolan, his psychiatrist, to approve his return to practice. However, Dr. Nolan is just as desperate to get House to deal with his mental health issues. Eventually, House starts to trust Dr. Nolan and starts to improve enough to be released. After initially thinking of leaving diagnostic medicine to relieve his stress, House finds that medical mysteries are the only good way to deal with his pain and he starts trying to get his job back from Foreman, who has replaced him in the meantime. After getting his position back, he manages to convince Chase to stay on his team full-time and manages to hook back Taub and Hadley (Thirteen) as well. However, once Chase admits to Cameron his complicity in the death of a mass-murdering African dictator, she won't be wooed back and leaves House, her husband Chase, and PPTH.
House also realizes that he wants to be with Cuddy and starts pursuing her. However, to his dismay, a private detective he hired, Lucas Douglas, has taken a liking to Cuddy as well, leading to a relationship. In a bold move, Wilson decides to get back at Cuddy for House, after Cuddy misled House at Thanksgiving, and outbids her on the apartment she was looking at. House moves in with Wilson in the new apartment, but is then threatened by the reappearance of Wilson's first ex-wife Sam Carr. Whether it was the tension between the House and Sam or not, Wilson asks House to move out of the apartment. Amongst the other events that took place, including the return of Alvie, his roommate from the psychiatric hospital, at his old apartment, House returns to Dr. Nolan for another therapy session only to find himself unable to cope with Cuddy's recent decision to move in with Lucas. House accuses Dr. Nolan of "selling snake oil" and leaves. The end of the season forces House to realize that because of his decisions in the past, particularly the decision to keep his leg, has made him cold, thoughtless, and lonely. This leads him to convince his patient that is trapped under the rubble of the crane collapse to have an amputation done so that she wouldn't repeat House's mistakes. However, House's patient dies due to a fat embolism that he could do nothing to prevent, and thus seeks out the final stash of Vicodin that has not been found in his old apartment. Tired, weak, and feeling helpless, House breathes heavily and stares at his old friend again when suddenly Cuddy appears in his apartment. Cuddy claims she could not stop thinking of House, even though she'd just accepted Lucas' marriage proposal. She admits that she loves him, which House cautiously accepts as he is unsure whether or not he's hallucinating again due to the Vicodin or not. Cuddy simply asks whether or not he has actually taken the pills. He had not, and thus begins the relationship of House and Cuddy.
Season Seven
As House and Cuddy's relationship progresses, they have clashes at work, including trying to keep the ER and ICU open. Meanwhile, Remy Hadley decides to take a leave of absence for a trip to Thailand. After admitting his relationship with Cuddy to his team, they worry if the couple can keep their work and personal lives separate. In one case, after a newborn stops breathing, the case ends in the baby living but the mother dying because she refused a critical operation for her chilld. After Hadley leaves, Cuddy pressures House to take on another fellow, who is Martha M. Masters, a third-year med student who is something of a child prodigy, graduating high school at fifteen and being about three years younger than any of her peers. When a patient comes in displaying smallpox symptoms, House risks his life to save the patient, but fails to save the dad who suffers from the same disease, but saves his original patient. As Cuddy and House's relationship advances, Cuddy's mother is in town, and he, Cuddy, her mother (Arlene) and Wilson eat dinner, during which House drugs Wilson and Arlene. House also mentions that hius relationship with Cuddy was making him a worse doctor, but he would always choose Cuddy over medicine. Later, when Cuddy is admitted to the hospital with life-threatening symptoms, House instead spends his time elsewhere, which leads to their breakup. House also begins taking Vicodin once more. Later, House discovers Thirteen has been in prison for the last six months and pokes into what she was in for, which is revealed to be bogus drug prescriptions. She also euthanized her brother who was dying of Huntington's (the same disease she has), but since she wore gloves, authorities could not prove she was the one who pushed the plunger. House, meanwhile, has taken up an interest in a new drug which has shown to regrow muscle in mice, and consistently goes to the lab to steal the drug. However, when he learns the drug causes fatal tumors, he excises them himself, but Cuddy finds him and takes him to the hospital. Also, Taub learns that he has kids. When an artist comes in as a patient faking symptoms aiming to make the diagnostic department her magnum opus, House discovers an underlying disease, and is convinced by her to change, but is rooted in old habits. He deals with his bitterness by driving into Cuddy's living room, sarcastically handing back a brush he stole, then spends three months overseas.
Season Eight
Edit
A year has passed since House crashed his car into Cuddy's home, and House is spending time behind bars at the East New Jersey Correctional Facility under the close watch of the prison warden. However, he seems to have been sentenced unnecessarily hard for a first offense. It is also stated that he asked for this severe sentencing. House states he is going to research dark matter, citing galactic rotation and detection, if he leaves medicine. He returns to medicine during the duration of Season 8, but eventually leaves medicine after "faking his own death" during the finale of Season 8 and riding off with James Wilson, so Wilson had someone to share his final few months with, Wilson having been diagnosed with Thymoma (cancer of the thymus).
Experiments
Edit
House's willingness to take risks and experiment with his patients extends to his own health. Beyond his use of Vicodin, he has frequently used himself as a guinea pig for drugs and medical tests. Some of these tests are aimed at curing his leg pain, while others are to help his patients or satisfy his own curiosity. This disregard for his own well-being horrifies Wilson and Cuddy, who see it as an expression of his self-destructive impulses.
House's self-experiments include:
Injecting himself with nitroglycerin to cause a migraine headache, in order to prove a rival's migraine cure was flawed, though Wilson interpreted it as House's way to forget about Stacy. He later used LSD to offset the migraine and antidepressants to nullify the LSD's more potent effects (Distractions).
He was tempted to graft the pain-free spinal nerves of a CIPA patient onto his leg, but later decided against it for unknown reasons. The only explanation is that there was a chance his leg might have become infected which would have required amputation. (Insensitive).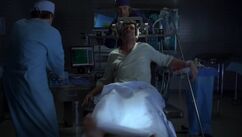 Faking brain cancer to enter a clinical trial where a drug-dispensing chip would be installed into the pleasure center of his brain. This effort was derailed when his team uncovered his deception (Half-Wit).
Sticking a knife into an electrical socket to see what would happen if he was temporarily dead. Later in the episode, he asks to talk to the clinic patient who performed the same stunt earlier in the episode, but learns from Wilson that he died. Wilson asks House if he saw something, but House doesn't respond. At the end of the episode, he says "I told you so" to a dead patient who argued with House that his suffering would soon be over and he would be in heaven. (97 Seconds).
Injecting himself with blood from the same batch as a sick patient to test if a blood transfusion caused his symptoms (You Don't Want To Know).
Undergoing hypnosis and overdosing on the Alzheimer's medication physostigmine to unlock memories lost after a bus crash. The latter of the two put House into cardiac arrest (House's Head).
Deep brain stimulation with an electrical prod to complete the missing memories. The electrical current caused a seizure, which combined with House's fractured skull to create a bleed in his brain and send him into a coma. He awoke from the coma at the end of the episode, but any damage has yet to be revealed (Wilson's Heart).
He experiments with Methadone in the episode The Softer Side and becomes a nicer person. Cuddy and Wilson go to confront him on why he is acting nice, but they find him in his office, not breathing. They manage to resuscitate him in time. It is later revealed that the Methadone caused this. He then was going to quit his job because Cuddy wouldn't allow him to take Methadone, as she was worried that he was going to kill himself taking it. At the end of the episode, he decides he doesn't want to be on Methadone anymore, reasoning he couldn't do his job right because he was pain free, and therefore nicer and more oblivious to tiny details.
Putting himself into insulin shock in an attempt to get rid of his hallucinations (Under My Skin).
Abusing an experimental drug compound for rats meant to regrow muscle. It was dangerous as it was never tested on humans. House later finds out from the scientist who developed the compound that the rats grew tumors and started to die. He attempted to remove the benign tumors from his leg surgically by himself, as he didn't trust the other surgeons to do it, beliving they would attempt to amputate his leg. After he fails to remove the tumors himself (as the anaesthetics wear off, causing him extreme pain), Cuddy takes him to have the tumors removed by surgeons. House keeps his leg.
House isn't the only one who does experiments on himself. In the episode "No Reason", House hallucinates that Cuddy gives him ketamine to reboot his nerve connections. Near the end of the episode, House comes to, and tells Cameron to tell Cuddy to give him ketamine. Another example is in the episode "Resignation" when Wilson slips House anti-depression medication. House responds by putting amphetamines in Wilson's coffee.
Personality
Edit
Equipped with a dry, acerbic almost cruel sense of humor, House is enigmatic and conceals many facets of his personality with a veneer of sarcasm. He appears and sometimes himself claims to be narcissistic (although he also shows many signs of self-contempt which would be impossible for an actual narcissist) and appears to disdain most people, leading some to label him "a misanthrope." He has contempt for most societal institutions including feminism and religion. House is an atheist and it is implied that he is nihilistic. These traits make him something of a byronic hero. Despite his cynicism, he does seem to care about his colleagues to a certain extent and while considering them "idiots" is able to sometimes put aside his pride and apologize when he has offended them in a particularly cruel fashion. House uses his flippancy to conceal his affection toward his colleagues, and denies it to the extent that he himself sometimes forgets it. House is a total maverick and has stated that he frequents prostitutes. In one episode, his best friend Dr. Wilson states that House could have Asperger's Syndrome, but later tells House that he only wishes he had Asperger's so he could get away with more in life. Wilson has also told House that his obsession with solving cases has nothing to do with saving lives but that while "some doctors have a Messianic complex, House has a Rubik's complex", that is to say, he's more concerned with figuring out what is wrong with his patients than he is with saving their lives. The latter he does simply because it's his job. This is shown when he sometimes tries to diagnose patients after they're dead, such as in the episode "97 Seconds".
Occasionally, House can display the same sort of hypocrisy he decries in others, such as his derision for Cuddy when she had the naming ceremony for her daughter. A particularly egregious example would be his acquisition of a handgun after being shot by Moriarty, while stating to Masters that the Second Amendment is the part of the Constitution which says that people have the right to be stupid. He also apparently has inherited John House's service automatic and Mameluke sword. No Reason, Euphoria (Part 1), Last Temptation, Perils of Paranoia
Relationships
Edit
Although House has had a number of co-workers, employers, lovers, and acquaintances during his life, it appears that he has only had six real relationships during his life. This is primarily because House's personality is most likely a deliberate attempt to alienate those who want to get to know him better. The six people who have been able to overcome his defensiveness have found a person worth salvaging, or even cherishing.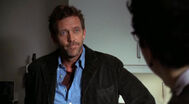 See also Hilson
Wilson is House's best and perhaps only friend. Although, like just about everyone else, Wilson admires House for his considerable medical skills, and probably cares more for House as a human being. However, even Wilson agrees that this has led to a co-dependent relationship, with Wilson acting as an enabler. For example, Wilson kept House well supplied with Vicodin and often makes excuses for his behavior to get House out of trouble. For those who know both of them, they realize that Wilson will drop everything when House needs him. When Stacy (House's ex-girlfriend) eventually left House, it was Wilson who kept him going. As a result, Wilson is very protective of House. However, Wilson is no pushover; he often challenges House over his behavior and is not above tricking him to show House that although he might be right about almost everything, that skill doesn't apply to his own behavior. In one episode, House pretends to be gay to get the attention of a neighbor, Wilson even proposes to House.
See also - Housy
House's ex-girlfriend and possibly the only woman House has ever shown outward emotion for. Although their relationship broke up over House's anger about his disability, it's clear that they are physically, emotionally, and intellectually attracted to each other. Unlike most people, Stacy can see right through House's defensiveness and can often see through his attempts to manipulate her. Most of House's fear of relationships can probably be tracked back to the pain he felt when Stacy walked out of his life.
House's father was a strict disciplinarian, but although his punishments were severe, they were never arbitrary or fueled by anger. As a Marine, John probably felt his son would respond well to the same sort of discipline that made him the man he did. Instead, House is almost the antithesis of his father. Where John is compulsively neat, Gregory dresses like a slob. The father is punctual while the son is constantly late. Where John is straightforward, his son is manipulative. However, although House clearly wants nothing more to do with his father, it is just as clear that his father wants to have a relationship with his son and share the important things in his life.
From the way House treats women, one might expect that his relationship with his mother was troubled. However, House's mother loves him unconditionally, and the reverse is true as well. It was probably this unconditional love that led House to pursue his dreams. However, House realizes that he is a disappointment to his mother because the thing that his mother wants the most is for him to be happy, and he seems incapable of being anything other than miserable. His wish to avoid his father has the unfortunate fallout of taking him away from his mother as well.
Main article - Huddy House and Cuddy met twenty five years ago at the University of Michigan. For years at PPTH, they seemed to deny this attraction, and each appeared to take active steps to discourage it - House pressing Cuddy's failure to keep active as a doctor and her strict adherence to medical protocol, and Cuddy emphasizing House's lack of work ethic and reliability. However, in the Season 6 Finale "Help Me", Cuddy tells House that she loves him while standing in his bathroom. Thinking it is another hallucination, House checks to make sure that he did not take the Vicodin. He had not, and it was true that Cuddy had ended her engagement because of her feelings for House. However, House was unable to face the prospect of losing Cuddy to cancer without resorting to Vicodin, and when Cuddy realized his inability to cope without drugs, she ended their relationship. House was fundamentally incapable of dealing with this rejection, culminating in him deliberately destroying the remains of their relationship by driving his car through her front wall.
More insights into House's view of relationships were obtained in the episode Mirror Mirror. When House was with the mirror patient, Number 13 was in the room with them. The patient chose to mirror House. At first, the patient started to make comments about how good-looking Number 13 was, then he started to express regret about how it was impossible for him to do anything about it. It appears from this that House would like to have relationships with some of the women he works with, like Lisa Cuddy and Allison Cameron, but knows that pursuing such a relationship would be inappropriate and near impossible.
House marries Dominika in season 7, following his break-up with Cuddy. Howerver, this is just a sham, so that Dominika could get a green card. In season 8, they start living together to prove to the INS that they are a legitimate couple. In We Need the Eggs, it seems that House has started to develop feelings towards Dominika.
Main Article- Hameron
When questioned initially, House told Cameron that he hired her for her looks. However, he expanded on that by admitting that he surmised that because she was so good looking, she could have coasted into any sort of life and instead must have chosen to dedicate her life to medicine.
Cameron expressed a romantic interest in House on several occasions, and they dated once (the one date was Cameron's condition for coming back to work). House has been apparently uninterested in pursuing a relationship - he told Cameron she tends to form relationships with people who need "fixing", and that it is his damaged personality that in fact draws her to him. House, however, betrays more than a passing interest in Cameron to Wilson in the episode Role Model when he reacts perceptibly to Wilson's comment about 'hitting on' Cameron. Although Cameron has stated that she is "over" House, neither her colleagues (nor Wilson or Cuddy) believe her. Both characters retain an ambiguous interest in the other. In No Reason, House repeatedly fantasizes about Cameron, first for her abiding concern for his injury and later as he caresses her with a surgical robot. For her part Cameron lets slip to a documentary team in Ugly that she loves House and later we see her trying to convince herself that it was an innocent remark. Cameron and House share a passionate kiss in Half Wit, but it is soon revealed that she only does so to try and draw his blood.
After Chase is fired and Foreman leaves in Human Error, Cameron hands her resignation to House, ostensibly because she has learned all she can from him.
Since leaving House's team, Cameron has been far more authoritative with House, bringing him cases and pointing out how his quick diagnoses have been wrong. However, it appears she may be getting more authority over House, primarily due to her excellent administrative skills, honed by years of doing House's dictation and keeping up his charts.
House prefers to be addressed as "House" by everyone and is rarely addressed as "Greg". The only people he doesn't object having address him as "Greg" are Stacy Warner and his parents. He usually takes being addressed as "Greg" as a sign that the individual is being overly familiar and he often goes out of his way to hint that it takes more than calling him by his first name to strike up a friendship with him. Dr. Marty Hamilton tried to get on House's good side by addressing him as "Greg" in DNR only to have House pause and carefully emphasize "Marty" in return. Wilson has also referred to House as "Greg". One example of this is in "Joy to the World" where a gift he gave to House has a note that reads: "Greg, made me think of you." He also signs off as Greg in a book that he presents to Cuddy in the Season 6 finale, Help Me.
Sherlock Holmes references
Edit
House lives in apartment 221B on Baker Street (according to Two Stories). This is similar to 221B Baker Street as seen in Holmes.
House's friend is Doctor James Wilson; Holmes' is Doctor John Watson.

The name "Watson" was changed into "Wilson" in the novel Arsene Lupin contre Herlock Sholmès.

"House" is a synonym of "Home", which is a homophone of "Holmes"
Both have drug issues - House with Vicodin, Holmes with cocaine, morphine and tobacco.
House calls all his associates by their last names, the same with Holmes calling John Watson by his last name.
Can deduce and diagnose a great deal just from looking at a person, as can Holmes.
Both plays musical instruments - House electric guitar and piano, Holmes the violin - often to relax and think.
The surname "Adler" used both for the female patient in the pilot, and for the female patient House supposedly fell for according to Wilson in "Joy to the World" (5.11) (Turns out Wilson is just yanking the chain of House's team). "Adler" is also the surname of The Woman, the female criminal who escaped Sherlock Holmes.
Holmes' famous axiom, "When you have eliminated the impossible, whatever remains, however improbable, must be the truth" explains deductive reasoning - a Differential Diagnosis (DDX) follows the same logic.
House is shot by Jack Moriarty - Holmes' arch-enemy is Professor Moriarty.
House is the only main character who has appeared in every episode of the series.
Cuddy sets aside $50,000 every year for legal expenses caused by House.
An average of 50% of all the legal cases PPTH faces in a year are the result of House.
On average, House visits the HR department 2 times every day.
Only four women who ever liked or loved House who were not sick in the entire series. Stacy Warner, Allison Cameron, Lydia, and Dominika Petrova were those women.
He doesn't like pickles.
Ironically, he seems to have made a hobby of collecting a variety of running shoes.
He is often seen using portable gaming consoles, starting out with a Game Boy Advance SP early in Season 1, and a Nintendo DS later in the season. For most of the show's run he uses a PlayStation Portable, and finally a PlayStation Vita in mid-late Season 8.
Related links
Edit
Mid 30s Man - The case history of the incident that led to House's disability in the episode Three Stories
House (Broken)- A case history of House's experiences in Mayfield Psychiatric Hospital
UK Doctor House Official Broadcaster
This article is also available in Spanish at es.dr-house.wikia [4]
This article was the featured article for April 2010