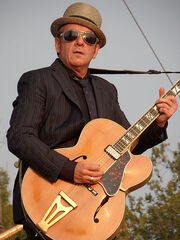 Declan Patrick MacManus, 
far better known by his stage name, 
Elvis Costello, 
is a British musician.  One of the leaders of the 1980s British "punk/new wave" movement, he has become one of the most recognizable and prolific musicians in the world.  On 
House, M.D.
, he provided a cover of the song "Beautiful" to bookend the 
Season 2
 episode 
Autopsy
.
He is one of a very few people involved with the series in any way who has worked with Hugh Laurie on another project, the 1997 film Spice World.