Clare Kramer
Biographical Information
Born
September 3, 1974
Birthplace
Atlanta, GA
Gender
Female
Years Active
1997-Present
Role
Caren Krause
Season
Season 3
Episode
Meaning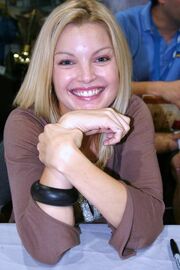 Clare Kramer is an American actress who is probably best known for her role as the villain Glory in Buffy The Vampire Slayer. On House, M.D., she portrayed paralysis victim Caren Krause in the Season 3 premiere episode Meaning.
Kramer also has an impressive stage resume, playing Hellen Keller in The Miracle Worker. She has also appeared in Bring It On and The Rules of Attraction. She currently appears on the television series Goodnight Burbank, and is scheduled to appear in three movies being released in 2011.
Connections
Edit
Ad blocker interference detected!
Wikia is a free-to-use site that makes money from advertising. We have a modified experience for viewers using ad blockers

Wikia is not accessible if you've made further modifications. Remove the custom ad blocker rule(s) and the page will load as expected.