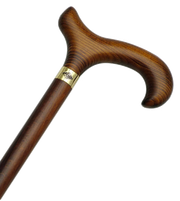 In order to deal with the
pain
and weakness in his right thigh,
House
carries a
cane
with him pretty much wherever he goes. He can hobble short distances without a cane, but rarely does he go very long without one by his side. Only a few times has he gone without a cane for long: at the start of the third season, while he was under the effects of the
ketamine
treatment; and for a time in the fifth season, when he switched from
Vicodin
to
methadone
to ease his leg pain. In "
Needle in a Haystack
", he switches to a wheelchair to make a point about his parking space. And in "
Now What?
" he spends the entire day at home and does not use a cane.
House is not above using the cane for other purposes. He has struck people with it on more than one occasion, but to be fair in more than one instance the blow was used for diagnostic purposes. He likes to use it to knock on doors, hold elevators open and push aside privacy curtains. He has also used it to gain sympathy on more than one occasion.
As was noted by his physiotherapist, House does not use the cane in the correct hand - a person should hold the cane in the hand on the same side as the healthy leg and use it as a prop to take weight off of the bad leg. House's use of the cane merely puts more pressure on his bad right leg and transfers much of the weight supported by the leg to his right shoulder rather than his left leg. Series creator David Shore has disputed this notion somewhat, though. He was quoted in one interview:
"It was a big issue early on about which hand he holds the cane in. The thought was he should hold the cane in the opposite arm from the injury. That is basically true — most people use the opposite arm. But some people feel more comfortable with a cane in the dominant arm, and that is acceptable." [1]
The decision to have the character House carry a cane was made even before the part was cast. The creators, producers and writers were sure that a handicap of some sort should be integral to the main character, but there was an argument about how it should be depicted. At first, it was proposed House should be confined to a wheelchair (which worked in the television series Ironside about a crippled detective). However, it was soon realized that limiting the character's mobility in this way would severely restrict the way the character could be used. The second idea was to use a scar, but this posed problems with makeup (although on a couple of occasions we see House's scarred leg). Once a cane was accepted another problem cropped up - a cane takes a couple of inches off of the height of the character when it's being used, and in moving shots it was important that House stand out. That required the casting of a very tall actor who would still stand out while using a cane.
House's Canes
Edit
In reality, almost 100 canes were used during the production of the series, many of which were broken or lost during the course of the series. However, a list of some of the more significant canes House has used over the series run would include the following:
Replicas of some of House's canes can be purchased online at Fashionable Canes. The show has also been known to auction off used canes for charity.[1][2]
In the Facebook game House M.D. - Critical Cases, different types of canes are collectible rewards.
Ad blocker interference detected!
Wikia is a free-to-use site that makes money from advertising. We have a modified experience for viewers using ad blockers

Wikia is not accessible if you've made further modifications. Remove the custom ad blocker rule(s) and the page will load as expected.