Andy Comeau
Biographical Information
Born
October 19, 1970
Birthplace
New Boston, NH
Gender
Male
Years Active
1994-Present
Role
Travis Brennan
Season
Season 4
Episode
The Right Stuff, others
Andy Comeau is an American actor who played applicant Travis Brennan in Season 4. Prior to House (TV series), Comeau starred as Terry Huffstodt in Huff with Hank Azaria. Prior to that, he made several guest appearances on shows such as CSI, Providence, Criminal Minds, and Will & Grace.
He is slated to star in the upcoming Frank the Bastard
Connections
Edit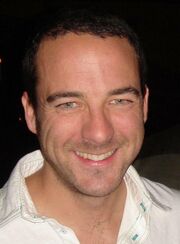 Ad blocker interference detected!
Wikia is a free-to-use site that makes money from advertising. We have a modified experience for viewers using ad blockers

Wikia is not accessible if you've made further modifications. Remove the custom ad blocker rule(s) and the page will load as expected.