Amanda Seyfried
Biographical Information
Born
December 3, 1985
Birthplace
Allentown, PA
Gender
Female
Years Active
1999-Present
Role
Pam
Season
Season 1
Episode
Detox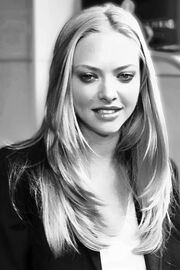 Amanda Seyfried is an American leading actress, best known for her role as Sarah Hendrickson in the series Big Love. Early in her career, she worked in a supporting role on House, M.D. as Pam, the girlfriend of Keith Foster, the patient in the episode Detox.
Even when she first appeared on House, she had already appeared in a recurring role as Lucinda "Lucy" Montgomery on As The World Turns, as well as being a featured actor in Mean Girls. Since then, she has become one of the hottest actresses in Hollywood, appearing in American Gun, Alpha Dog, Wildfire, Veronica Mars, Solstice, Mamma Mia!, Boogie Woogie, Jennifer's Body, Chloe, Dear John, Letters to Juliet and, most recently, Red Riding Hood, In Time and Les Miserables.
Connections
Edit
Ad blocker interference detected!
Wikia is a free-to-use site that makes money from advertising. We have a modified experience for viewers using ad blockers

Wikia is not accessible if you've made further modifications. Remove the custom ad blocker rule(s) and the page will load as expected.