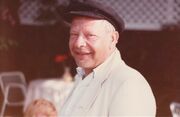 Allan Rich
Biographical Information
Born
February 8, 1926
Birthplace
Bronx, NY
Gender
Male
Years Active
1963-Present
Role
Sidney
Season
Season 7
Episode
Selfish
Allan Rich (née Benjamin Norman Schultz) is a veteran American character actor, author and social activist. On House, M.D., he portrayed Sidney, the son of centenarian clinic patient Maurice in the Season 7 episode Selfish.
Rich's career was sidelined in the 1950s. Caught up in the "Red Scare", he was blacklisted and unable to work in television or film. However, he returned to the small screen in 1963 in an episode of Naked City. Since then he has compiled well over 100 credits, including featured roles in The Entity, Hill Street Blues, Equal Justice, Quiz Show, Disclosure and Judging Amy.
Connections
Edit
Ad blocker interference detected!
Wikia is a free-to-use site that makes money from advertising. We have a modified experience for viewers using ad blockers

Wikia is not accessible if you've made further modifications. Remove the custom ad blocker rule(s) and the page will load as expected.